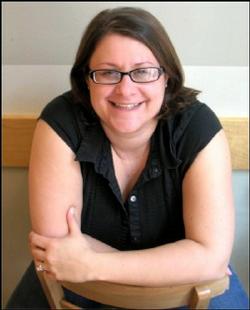 Blaire Postman, founder of the upcoming dccomedyfest taking place at venues throughout DC, didn't start out as a Washingtonian or a comedy guru. A New Jersey native by birth and an entertainment lawyer and talent agent by trade, Postman made it her mission to bring breakthrough comedy talent to DC. Recently we sat down to talk with her about humor in Washington and what to expect at the 3rd Annual dccomedyfest (April 12-14).
Why do you think there's so much comedy in DC?
Any really good comic, regardless of what their stage personality may be, is smart. And DC is not lacking in smart, quirky, interesting people. They're drawn here for a lot of different reasons. And it's a short car or train ride to New York, so it's a nice jumping-off point. It's the fourth largest media market, I believe, in the nation, and it's an extraordinarily savvy one. It's a great way to get your chops. The audiences are great in that they get every allusion to every joke, and they're dying for a laugh. That said, they're really busy people, and they're really sharp, so you've got to make it easy to find you and find what the new funny thing is, which is what the festival really tries to do.
The dccomedyfest specializes in up-and-coming performers. What do you look for when booking rising talent?
When I say these are up-and-comers, they're not up-and-comers like they do open mikes around town. No. They tour the country. They do a lot in New York and in LA. A lot of them have been on TV in various capacities. They've had commercials, or they've been on Comedy Central. But they're looking for their big break. So that's one of the reasons they come here. It's very symbiotic. We get industry because of our great talent, and then more talent wants to come because we get great industry.
So you have people come who are looking to scoop up all this talent?
First year a little bit, last year more, this year a lot. We have talent agents, we have scouts for major production companies, we have people from other festivals, and we have people from network or management companies that also produce a lot coming to check it out. And that's because we've got a pretty good reputation for who we get and who those people turn out to be.
We have Letterman auditions where Eddie Brill, the booker for Letterman, is coming down. We have Leno auditions where Bob Read, the booker for the Tonight Show, is coming down.
Read below for more.
And people are just auditioning and audiences are watching?
Yep, it's just like if you were watching a showcase. You get like a dozen comedians to come up, and they do about seven minutes each trying to show their best scenes. So that's kind of a big deal. Even if you're not on the official Letterman Show, Eddie Brill is going to be here all weekend watching whatever he wants to watch. And Bob Reed is going to be here all weekend watching whatever he wants to watch.
Seeing as you're located in our nation's capital, will there by any political comedy this year?
We never did a political comedy show because I was afraid in those first couple of years we would wind up being the political comedy festival, but I think we're safe now. So we're doing one. It's President Bush is a Great Man. It's from the Annoyance Theater in Chicago, and if you like political satire and don't mind that it's not PG rated, then you've got to see that show. They are so excited to be doing it blocks from the White House. "President Bush is a Great Man" is going to be one of the hot tickets to see.
Every now and then you'll book an act with less experience. Which act that you never heard of before are you most excited about?
There's a group from Arizona State University, the Farce Side—a difficult college name, I think. The first ten seconds I was like, oh, this is the standard college sketch that you write, but it turned into this eight-minute extravaganza that was making fun of the typical college sketch. Then it exploded into making fun of movies and movie trailers. Eight-minute sketches are not typically good sketching, but this was hilarious. I was laughing so hard I couldn't believe it, and I'd never seen them before.
Is the Farce Side coming to the festival?
Oh, yeah, they're coming.
What type of comedy does the dccomedyfest specialize in? Is it mostly improv or sketch or stand-up?
Even though some people didn't want us to, we focused on everything. That sounds like a bit of an oxymoron, but we had everything. We had stand up, sketch, and improv from the first year. And from the second year we had short comedy films. And it's getting bigger and bigger, and this year we have some really big national acts that have submitted short comedy films. It's really cool. Also, all the proceeds from the kickoff show on Thursday, "Meredith's Stand Up vs. Brain Cancer Benefit" will go to the Brain Tumor Society. My fiance's mother passed away from brain cancer, and this show will raise money to combat the disease.
What will the theater experience for the dccomedyfest be like? What can audiences expect?
It's very loose and fun. We give people passes instead of individual tickets, which really encourages them to try stuff they otherwise wouldn't. I mean if you have a $30 pass, you can see three or four shows in a night. I want people to see something they wouldn't normally see. If you show up to something you don't like, you can just leave and go to something else.
There's so much comedy in this city, and yet there's a huge segment of the population in DC that doesn't know it exists. And it's kind of weird because people in other cities know it exists. They know all these DC comics who they see come to their towns and who kick ass. And they see Washington Improv Theater get into the most prestigious festivals in the country in Chicago and New York. We have the dccomedyfest and I get more than 300 applicants for 40 slots, or something like that. They all know about it. But there's some people in DC who don't. And there's some people who think that well, we're a serious town. We don't do comedy. Well, we're a serious town, and that's why we need to come.
Tickets for dccomedyfest are available here.