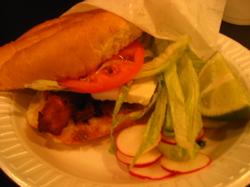 The torta sandwich doesn't feel Mexican at all. The beans go unnoticed, bread replaces tortillas, and the bun-meets-meat character eerily resembles a burger. It's easy to be skeptical.
But venture into Columbia Heights for the no-frills Taqueria Distrito Federal, where torta sandwiches are as authentically Mexican as the chorizo tacos and fresh tamarind juice (both on the Spanish-language menu). Owner Louis Marroquin is actually Salvadoran, but he married a Mexican woman and understands the importance of specifically-Mexican—not just abstractly Latin American—culinary pride. His $6 torta sometimes gets overshadowed by the two-buck tacos on the menu, but this sandwich is special.
A torta wouldn't be authentic without the "teleras" bun—a soft, rustic flat roll which Marroquin picks up daily from Maryland's Poblanito Mexican Bakery. Knock-offs use French bread, which Marroquin thinks is too crunchy. His torta's crunchiness instead comes from the breaded chicken breast or steak. An adaptation of an Italian "Milanese" concept, the flattened meat is rolled in sticky egg batter, then breaded, fried and finally grilled with Mexican spices. Meat options also include unbreaded grilled chicken breast, steak or ham. And then there's al pastor, a "secret menu item" which only "the real Mexicans know about," Marroquin says. Almost like a Mexican version of Turkish doner kabob, this thinly-sliced meat is slowly cooked in a vertical rotisserie—the same one used for gyros—while marinating in a blend of pineapple, onion and garlic. While Greeks and Turks use lamb, Mexicans typically combine pork and beef. The tradition began in Mexico City with the surge of Lebanese immigrants.
Lettuce, tomatoes and a subtle "smear" of refried beans join the line-up of fillings. Marroquin whips the beans in a blender, then spreads them on the bun with mayo. On top, he layers avocado slices, and when those aren't in season, cactus marinated in lemon and salt. "It's what the Aztec Indians used to eat instead of steak. Big wedges of grilled cactus."
The final ingredients are a block of "Mexican cheese" (no fancy name) that's similar to feta, then onion and cilantro. The Styrofoam plate also includes a wedge of lime, which brings all the flavors together.

Marroquin serves about 25 tortas per weekday, and 50 or 60 on the weekends. He likes the carryout quality of the sandwich, especially since his cramped indoor space is the size of a true taqueria.

Taqueria Distrito Federal, 3463 14th St. NW; 202-276-7331; Open Sunday through Wednesday from 9 AM to 9 PM; Thursday through Saturday from 6 AM to 11 PM.