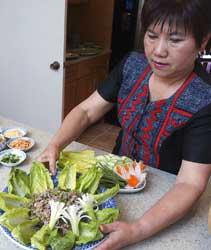 Jose Andres has published his ode to tapas (and has another cookbook coming) and Michel Richard has got Happy in the Kitchen, but what about Washington's under-the-radar chefs? Do they have literary agents? If they're not en route to Food Network fame, will the public read their recipes in bound form?
Chef and restaurateur Nongkran Daks sells her spiral-bound cookbooks at the tucked away Thai Basil, hidden in a Chantilly strip mall. Daks is something of a Thai Rachael Ray: In each of the books in her Learn to Cook series, she explains traditional ingredients and emphasizes the "made easy" and "quick" nature of Thai cuisine.
Plus, she has a few others on Amazon. Just this year, the author and editor published Wok Cooking Made Easy: Delicious Meals in Minutes, which highlights the secrets to wok improvisation. Asian Noodles & Snacks and Healthy Wok & Stir Fry Dishes: the Ultimate in Asian Comfort Food were released back in 2003. At the restaurant, she also sells Thai Soups and Salads and Homestyle Vietnamese Cooking.

Though the books are thin and a little flimsy, they're not self-published. And though they won't make the Times bestseller list, Daks doesn't seem to mind. She's more concerned with giving a hands-on education of Thai cuisine, proven by the weekend classes she teaches at Thai Basil. For $150 for a series of three classes (held on consecutive Sundays from 2:30 to 5 PM), she reveals what Thai basil has that "normal" basil doesn't, how much garlic goes into soy-garlic sauce, and how mango pairs with sticky rice.
This weekend, Daks will join the entire Thai community in celebrating the Songkran Festival, also known as Thai New Year. Thai Basil says "Sawaddi Pi Mai" (that's "Happy New Year") with a special dinner menu of regional Thai dishes, available Friday through Sunday. Crispy duck with basil sauce is a central Thai specialty. Crying Tiger is a Northeastern recipe of marinated flank steak with fresh lime-garlic and toasted rice powder. And Khanom Jeen Nam Ya from the South is basically Thai spaghetti, a spicy dish with rice noodles drenched in fish curry. Dishes range from $14.95 to $16.95.

Thai Basil, 14511- P Lee Jackson Memorial Hwy., Chantilly; 703-631-8277; Thaibasilchantilly.com.