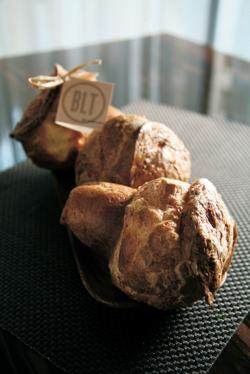 "Eighty-two dollars for a steak," the man at the next table says to the woman with him. Nothing in his tone conveys incredulousness or outrage. If anything, he seems almost tickled, as if ordering a double-cut sirloin that costs as much as dinner for two at some restaurants represents initiation into the world of power players.
"Sweet," he says.
He might have zeroed in, too, on the $16 shrimp cocktail. Or the Dover sole for $45. Or the five-ounce Kobe steak for $130.
If "sweet" is the last word that leaps to mind when you hear those prices, then either you're not loaded or no one else is footing your bill—in which case you're not the target audience for the new BLT Steak, the DC satellite of the New York empire built by chef Laurent Tourondel that has established itself as a cushy redoubt for high rollers.
Nestled into a lonely block of I Street in downtown DC, the restaurant is, by design, easy to miss. It looks like a private club.
A steakhouse with eye-popping prices and an air of exclusivity is nothing new. But BLT Steak has styled itself as a departure: a steakhouse that is not a steakhouse.
The space eschews the clichés of the power steakhouse, the dark-paneled, thick-carpeted preserve. Soft, buttery light sets the mood. The seats are covered in suede, and there are no high-back booths. Dried flowers sit prettily in a vase in the middle of the room.
The sensibility is more Pottery Barn than Prime Rib, just as the cooking takes its inspiration less from the classic American steakhouse and more from Tourondel's stints in Michelin-starred restaurants.
Warm country pâté, as soft as whipped butter but richer and more complex, arrives in a small crock after you order—and most likely vanishes not long after. Then come the Gruyère popovers, as big as garden squashes. They're hot and eggy and rich, and a shake of the giant metal saltshaker that comes alongside them intensifies the taste of the cheese.
They make for an ingratiating start. So does the raw bar. Oysters on the half shell have been fresh and sweet and briny and cold; so have shucked clams. Both are better bets than the jumbo shrimp cocktail, which ought to have more pop and succulence. A plate of marinated tomatoes with basil pesto summons up the charms of summer, even in winter. Strips of grilled, double-cut bacon kissed with a paste of garlic and vinegar are smoky, juicy, and irresistible. The nightly specials list has turned up some unexpected finds, like a celery-root soup laced with strips of apple and garnished with a crispy strip of prosciutto, a dish so delicate and subtle that it was hard to believe a kitchen geared for charring could produce it.
Endings are ingratiating, too. The best is a luscious crepe filled with pastry cream and finished in the oven, where it swells to resemble a half-moon soufflé. A blueberry-lemon meringue pie and a chocolate tart have been good, too. One night there was a special of pecan pie; it was a dead ringer for the Southern classic, but the plate was dressed up with something no Southern chef would think to include: candied kumquats.
BLT wants to have it both ways—to be both a seat of power dining and a serious fine-dining restaurant. It wants you to order a big steak and also linger over the grace notes.
For some, that's asking a lot. I watched men tapping out messages on their BlackBerries between courses. One night a man and woman passed documents across the table as easily as they shared the pâté and a bottle of wine. They reminded me of people who chatter through the overture.
If you're inclined to regard the pâté, the popovers, the appetizers as mere prelude to the meat, then BLT becomes a much less interesting place to eat.
That's not to say the steaks disappoint. Part of the theater of eating here is watching the sizzling cast-iron pans bearing Flintstonelike slabs of charred beef sail through the dining room. This is fine meat, well aged and properly mineral in flavor, generously seasoned, capped by a thick, dark crust and anointed with a pat of melting herbed butter.
The bone-in double-cut sirloin is the granddaddy of them all; the meat, cut from the huge bone to make eating easier, is as thick as a Russian novel. Its red-wine sauce, pumped up with garlic, mushrooms, and tomatoes, is closer to a good reduction than to a steak sauce. The steak costs $82 and is meant for two.
If you want to preserve your options for eating more than just meat, give a look to the richly marbled rib eye ($45) or the rosy hanger steak ($24). Or, though even more expensive, the Kobe steak. The menu refers to this cut as Japanese Kobe, as opposed to American Kobe (there actually is no American Kobe, only Wagyu). Regardless, it's the genuine article. Very rich and with a texture closer to that of a slab of fatty tuna than to a hunk of well-aged beef, this is as close as you can get to a steak that you can cut with a fork. Five ounces were more than enough.
"Tallow-flavored butter," my wife said, closing her eyes to savor it.
"But is it $130 good?" I asked.
Her eyes blinked open. "No steak," she said, "is $130 good."
The sides, as they often are at steak­houses, are uneven: The crispy-edge hash browns are excellent, but fingerling potatoes are dull, and gnocchi are disappointing, nearly gummy. Onion rings, stacked one on top of the other to form a tower, are all lightness and crunch; the creamed spinach is surprisingly light, too—also surprisingly dull. Brussels sprouts seem engineered to win recruits; the kitchen uses baby sprouts and glazes them in so much acacia honey with prosciutto that they hardly seem vegetal.
You expect more consistency at these prices. You also expect more from the service—a little care to go along with the feeding. The restaurant employs "wave-style" service, which means as many as four different people can come to your table. When it works, it's like choreography. When it doesn't, it's like a conga line at a wedding. In four visits I saw drinks delivered to the wrong person, dishes set down at the wrong table. Worse, after the presentation of the pâté and the popovers, the servers tend to vanish, and you're forced to flag them down.
It's hard to know what to make of BLT. Demand from it the niceties of fine dining, and it insists it's really just a big, bustling bistro. It's a steakhouse. It's not a steakhouse.
Two can play that game: It's thoughtful. It's careless. It revels in sensual pleasures yet often comes across as impersonal. It's better than most steakhouses but not as good or as polished as the city's best restaurants.
At its best it can make you feel rich and powerful—but it leaves you much the poorer for it.