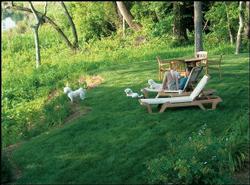 Steals
Caribbean on the Cheap
The Caribbean is the best-preserved of the Wildwoods's 90 remaining "doo-wop" motels, which once enticed 1950s working stiffs to the Jersey shore with their exotic names and flamboyant designs. (When it opened in 1957, the Caribbean was the first accommodation in the Wildwoods to plant plastic palms by the pool.) With its glowing neon sign and groovy Technicolor decor, the motel looks like something out of the Jetsons' vacation photos, but the newly renovated rooms are clean, and the prices aren't that far removed from the Eisenhower era. Best of all, the Caribbean—a drive of just under four hours from DC—lies a block off the beach and two from the boardwalk's quieter side.
The Caribbean Motel, Wildwood Crest, N.J.; 609-522-8292; caribbeanmotel.com. Weekend rates: $69 to $175.
Surf, Sand, and Wild Horses
If it's affordable oceanfront you seek, nothing beats the tent sites at Assateague Island National Seashore. The sites nestle behind the dunes, with the crashing Atlantic just on the other side. Expect cool ocean breezes and frequent visits from inquisitive Chincoteague ponies looking for handouts. For a more secluded experience, register for a backcountry camping permit and hike or kayak 2½ to 13 miles to your own site. For a $5 permit, it's the best oceanfront deal on the East Coast. Mosquitoes included.
Assateague Island National Seashore, Md.; 410-641-3030; nps.gov/asis. Rates: $20 a campsite, $10 entrance fee per vehicle. Backcountry camping: $5. Camping also available at adjacent Assateague State Park, 888-432-2267; for reservations, see www.dnr.state.md.us. Rates: $30 to $40 a night.
Pets Are Welcome, Too
From the first crunch of tires on the gravel driveway, shoulders begin to unclench at this get-away-from-it-all retreat in Lewes. Lazy L proprietors Debbie Estes and Joanne Cassidy have created a getaway for grownups who can't enjoy a vacation if the dog is languishing in a kennel. (There's a spacious dog run, and most everyone brings a pet.) The property, bordered by a meandering creek, graceful trees, and marsh grasses, is so peaceful and secluded, all you'll hear are waterbirds and the "plop" of feeding fish. Morning brings a house-cooked breakfast, including terrific, from-scratch pastry, courtesy of chef Debbie. Three dog-friendly beaches are nearby, and so is Rehoboth Beach, just a ten-minute drive.
Lazy L Bed and Breakfast, Lewes, Del.; 302-644-7220; lazyl.net. Rates $145 to $199. Pet fee: $15 a visit.
Splurges
At Ocean's Edge
One visit it's Bali. The next it's the Left Bank. Another time, South Beach. Only at Ocean City's the Edge can you sleep around the world and still be a ten-minute ride from the bumper boats at Trimper's. Twelve themed suites tastefully reflect exotic locales and sport balconies, fireplaces, and oversize Jacuzzis overlooking Isle of Wight Bay (be sure to draw the blinds). If you really want a splurge, book the Hang 5 Penthouse for its Tommy Bahama decor, panoramic views, and glassed-in bathroom.
The Edge, Ocean City, Md.; 888-371-5400; fagers.com/edge. Rates: $319 to $405.
Discovering Atlantis—on the Jersey Shore
The other Ocean City (O.C.N.J., that is—about a 3½-hour drive from DC) isn't known for splurge-worthy accommodations. But when it opened in 2003, Atlantis Inn changed all that. Innkeepers Bob and Kristina Doliszny gutted the 1905, 30-room Victorian and turned it into the poshest digs north of Cape May. Take in the ocean breeze from the 1,600-square-foot mahogany rooftop deck or replenish sun-weary skin with a Bergamot aromatherapy massage. Its ten suites and two apartments, with such names as Bordeaux and Seville, are decorated to reflect European locales. We like the Barcelona, a two-bedroom suite with a Spanish-tile shower and private access to that sprawling rooftop deck.
Atlantis Inn, Ocean City, N.J.; 609-399-9871; atlantisinn.com. Rates: $250 to $525.
Slice of (Blue) Heaven
Add ice to your ice bucket, and the container turns from lime green to cotton-candy pink. Switch off the bathroom light, and—whoa!—the sink glows blue. You've just witnessed a few of Hotel Blue's "smile elements," as owner Scott de Kuyper calls them. Lewes's newest boutique hotel has all the de rigueur luxuries: Frette robes, gas fireplaces, and linens with thread counts as high as Ivy League SAT scores. But it's Blue's fun factor that makes this place memorable. There's a rooftop pool, and each of the 16 guest rooms boasts a balcony overlooking Lewes Canal; two share patio koi ponds (these first-floor rooms are off the parking lot). Did we mention the flat-screen TVs that double as mirrors? Smile elements, indeed.
Hotel Blue, Lewes, Del.; 302-645-4880; hotelblue.info. Rates: $160 to $290.