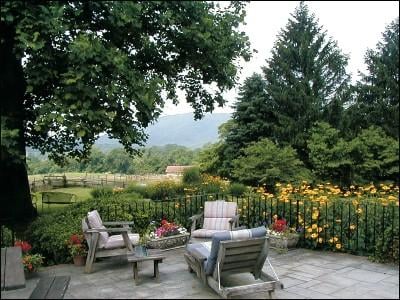 It's no secret that Shenandoah National Park is a prime spot to see fall foliage. But along with the breathtaking views can come breathtaking traffic.
What has remained a secret is spring in the park. The season is no less beautiful—and far less crowded.
This time of year, the forest springs back to life with wildflowers, ferns, and the phosphorescent green of budding leaves. Streams and waterfalls are fuller, laced with moss-covered rocks.
Colorful Hikes
Although some ground cover and flowering plants appear in April, it is the emergence of trillium by early May that announces the arrival of spring color. By midmonth, the three-petaled white and pink flowers dot the forested hillsides; in some areas they cover the forest floor.
One such spot is outside the park, in nearby Linden. In the G. Richard Thompson Wildlife Management Area lies the Trillium Trail, a short loop known for thousands of the blooms. Also keep an eye out for May apples, lady's slippers, and geraniums. Ferns and false hellebore can be seen in the lower-lying wet areas just off the trail.
Shenandoah National Park itself could not be easier to navigate. There is only one road, Skyline Drive, a 105-mile stretch that traverses the ridge line of the Blue Ridge Mountains from Front Royal to I-64 at Rockfish Gap. Concrete posts mark each mile from start to finish.
The most popular and dramatic vistas and hikes are in the Central District between Thornton Gap (mile 31.5), reachable via Route 211 from Sperryville, and Swift Run Gap (mile 65.5). All overlooks, parking lots, and trailheads are next to the road.
Almost all the trails will have you hiking along streams and waterfalls. In spring, especially May, high water levels make for dramatic waterscapes. If you catch one of the early-morning mists, the forest takes on an otherworldly, primordial feel.
Most of these hiking paths descend considerably from the road. As you lose yourself in the sights and sounds of the forest, keep in mind that the return is uphill.
It is almost impossible to pick an unscenic hike, but some highlights heading south from Thornton Gap include Whiteoak Canyon (mile 42.5) , Limberlost (mile 43), Cedar Run (mile 45.5), Dark Hollow Falls (mile 50.5), Lewis Falls (mile 51.5), Mill Prong (mile 53), and South River Falls (mile 62.5). With the exception of Limberlost, each of these follows a stream—sometimes called a run—as it snakes through the forest and at times plunges into a waterfall.
The trails range from 1.3 to 4.6 miles round trip. Many trails intersect and can be combined for the more ambitious.
The most impressive waterfalls are the Upper Falls in Whiteoak Canyon (86 feet), Dark Hollow Falls (70 feet), and South River Falls (83 feet). On the Whiteoak trail, an infestation of woolly adelgid has killed many hemlocks, diminishing some of the hike's visual appeal, though mainly near the trail's start.
Mill Prong trail (four miles round trip) ends at Rapidan Camp, the summer retreat of President Herbert Hoover. Some of the camp's main structures still stand and provide an interesting turnaround point. Limberlost trail, the easiest of these hikes at 1.3 miles on a wide gravel path, is known for its mountain-laurel blooms in June.
Hiking maps that include each trail's length and elevation gain are available at the visitor centers.
Although self-guided hikes in the park are the norm—trails are very well marked—guided hikes are available for those interested in learning more about the park's history, geology, flora, and fauna. Free ranger-led interpretive programs (nps.gov/shen/planyourvisit/rangerprograms.htm) are available throughout the spring and summer, including during the annual Wildflower Weekend, May 12–13. For a more private experience, Shenandoah Mountain Guides lead one- and two-day guided hikes, including "Waterfalls & Wildflowers" hikes in May and June, as well as "Inn to Inn" hikes. Prices range from $89 to $178 a person (there's also an easy $10 one) and cover all ability levels. For details, see visitshenandoah.com/activities/hiking.cfm.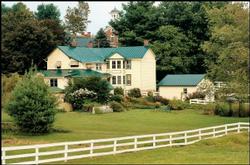 Where the Wild Things Are
Although there are not many fields of wildflowers in the park, there are 862 species. The most prolific include bloodroot (March-April); trillium, violets, lady's slippers, and geraniums (April-May); columbine, milkweed, daisies, and lilies (June-July); and, as summer nears its end, black cohosh, goldenrod, and woodland sunflowers. In June, mountain laurel adds dramatic splashes of color throughout the park.
One noteworthy spot is Big Meadow (mile 51), a large open field adjacent to Skyline Drive. There's often an abundance of colorful grasses and wildflowers. As dusk arrives, whitetail deer materialize. The mix of green, purple, and red grass, interlaced by walking paths, creates a scene that would have inspired Monet.
Places to Stay and to Eat
There are several inns, lodges, and B&Bs within an easy drive of the park.
The poshest is the Inn at Little Washington (theinnatlittlewashington.com), ten miles away. With room rates beginning at $410 (add $75 to $245 on weekends), the inn is not for the faint of wallet. The famed restaurant serves a fixed-price menu for $138 a person ($148 to $168 on weekends).
A lower-priced alternative is Foster Harris House (fosterharris.com), which offers a four-course breakfast and a bucolic setting for $195 to $335 a night.
An even lower-cost but still tasteful option in Little Washington is Fairlea Farm (fairleafarm.com), a working sheep-and-cattle farm with four guest rooms. Rates, $155 to $205, include a hearty breakfast.
In Stanley, 15 miles from the park, is Jordan Hollow Inn (jordanhollow.com), a restored 150-acre Colonial farm with horses to ride ($28 an hour). Well-appointed rooms range from $135 to $300, but the grounds and the restaurant are the real draw. Breakfast (included) and dinner are served at the 200-year-old Farmhouse Restaurant.
Big Meadows Lodge and Skyland Resort (visitshenandoah.com) offer rustic accommodations right in the park. Both lodges offer rooms, cabins, and suites from $66 to $275 a night as well as restaurants.
In addition to these inns, good dining choices include a Flint Hill trio: the Flint Hill Public House (flinthillpublichouse.com), known for its creative meat dishes; the intimate Four and Twenty Blackbirds (fourandtwenty.com); and the more casual, publike Griffin Tavern (griffintavern.com).
Sperryville's Thornton River Grill (thorntonrivergrille.com) is a local favorite for steaks and burgers.
On the drive out to or back from the mountains, you might consider Foti's in Culpeper (fotisrestaurant.com), one of The Washingtonian's 100 Very Best Restaurants, or the more casual Claire's at the Depot in Warrenton (clairescatering.com), in a converted train station.
For more information on hiking and other activities at Shenandoah National Park, see nps.gov/shen.
Daniel Schreiber (poephotography.com) is a photographer and writer in McLean.