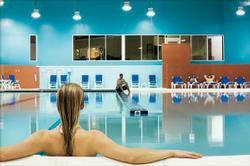 On May 1, Lansdowne Resort (lansdowneresort.com; 703-729-8400) near Leesburg unveils Shark Bite, a nine-holer that joins Greg Norman's 18-hole championship golf course. A mix of par 3s and 4s, it should be perfect for a quick round and for novice golfers.
The Linden Spa, complete with a fitness center and infinity-edge pool, is opening June 15 at the Inn at Perry Cabin (perrycabin.com; 410-745-2200) in St. Michaels. Signature treatments will draw on the healing benefits of herbs; treatment rooms will be named after herbs grown outside.
At the Greenbrier (greenbrier.com; 304-536-1110), the first stages of a major renovation were unwrapped in April. So far, more than 60 guest rooms have been transformed; the upgraded decor remains true to the resort's Dorothy Draper style, while soaking tubs and walk-in showers add glamour. A new fine-dining restaurant, Hemisphere, debuts in June with a globally influenced menu; a new lounge called 38º80 was created for live entertainment.
A stay at West Virginia's Resort at Glade Springs (gladesprings.com; 800-634-5233) just got more luxurious with the opening of a 50-room inn and restaurant, the Rotunda. Meanwhile, in the Leisure Center, the indoor basketball and tennis courts have company: a new ten-lane bowling alley, indoor pool, movie room, and workout space. The spa has been redone, too.
At the newly renovated Williamsburg Lodge (history.org; 757-220-7976), guest-room furnishings were inspired by the collections of the also reopened Abby Aldrich Rockefeller Folk Art Museum. Much of the 1939 lodge was restored, including its bluestone floors and cypress paneling.
Treatments at the new Spa of Colonial Williamsburg, located between the lodge and the elegant Williamsburg Inn, are inspired by centuries-old wellness practices. They use maize from the 17th century, herbal treatments from the 18th, and current-day hydrotherapy. The spa's indoor and outdoor pools open June 15.
Wintergreen's (wintergreenresort.com; 434-325-2200) expanded Wintergarden Spa, opened last season, is a welcome change from its former, bare-bones spa. And the Charlottesville-area resort's golf school now uses ModelGolf technology developed by a biomechanics expert who studied the swings of more than 100 tour professionals to create a computer model of the perfect swing.
Hersheypark (hersheypa.com; 800-hershey), in Pennsylvania, introduces the biggest addition in its history with the Boardwalk at Hersheypark, opening May 26. The Boardwalk will feature five new water attractions including two wave areas—one for body surfing or boarding; more than a thousand feet of water slides; and a seven-story-high water play area with 225 feet of bridges to cross and climb.
Adventure Sports Center International (adventuresportscenter.com; 301-387-3250), the first man-made mountaintop whitewater course, opens Memorial Day weekend in Deep Creek, Maryland, up the road from Wisp Resort. The course resembles a natural waterway; difficulty ranges from Class II to IV. Besides whitewater rafting, activities include canoing, kayaking, river boarding, rock climbing, and mountain biking.
Nemacolin Woodlands Resort (724-329-8555; nemacolin.com) in Pennsylvania is expanding its popular shooting academy, while a new wine academy teaches all things grape. In April, the Marina at Paige's Beach opened with paddleboats, kayaks, canoes, and small sailboats—as well as a paintball course. New wildlife-viewing habitats house black bears, buffalo, zebras, elk, wallabies, and a hyena named Giggles.