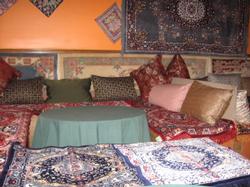 Walk in to Mem Sahib, and the Rockville restaurant's rather dreary strip mall location is quickly forgotten. The dining room is dimly-lit and inviting, filled with couches covered in colorful Indian tapestries that surround low tables. It's not the place for a quick weeknight meal—there's a lunch buffet during the day, but dinner brings just one option: a six-course feast for $22 per person. We lingered on those comfy couches for two and a half hours without glancing at our watches.
The meal begins when a sari-clad waitress arrives with a silver pitcher and bowl to perform a hand-washing ceremony, because everything is eaten with your hands (and naan).
The fixed-price menu doesn't change: the first course brings a trio of salads—a smoky eggplant best scooped up by crispy pappadam, sweet carrots flecked with cilantro, and refreshing chopped cucumber and tomato. Next, a platter of juicy tandoori chicken, lots of fun to eat right off the bone with your hands. Then, a choice of butter chicken or lamb curry. Having just polished off the tandoori chicken, we went for the lamb, served over rice with a side of blistery naan.
At this point, you're likely getting full—fortunately, tea counts as one of the remaining three courses. Hot towels arrive for another hand-washing (much needed). Then comes a big bowl overflowing with fruit and nuts (and nutcrackers, since the nuts are still in the shells). Small silver bowls of Indian rice pudding arrive soon after, followed by glasses of not-too-sweet chai tea.
The sweet hostess, who sat down on the couch with us to explain the dinner experience, said the place is packed on weekends—there's a belly-dancing show on Friday and Saturday nights. On our Wednesday visit, we still got some entertainment—Indian pop music videos playing on a big screen. The music is catchy and though the videos are cheesy, they're hilarious and hard to stop watching. For a group seeking something fun and a bit different on a budget, Mem Sahib is a real find.
Mem Sahib, 4840 Boiling Brook Parkway, Rockville; 301-468-0098; Memsahibrestaurant.com.