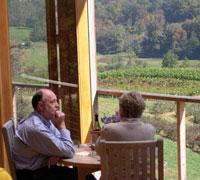 Rappahannock County's biggest claim-to-fame is the illustrious Inn at Little Washington–the ultra-luxurious restaurant and inn that anchors the tiny town of Washington, Virginia (population 160). But there's been plenty written about that. On a recent weekend trip to this idyllic setting just 65 miles from "big" Washington, I discovered some other great spots nearby for food, wine, and fun.If you come to splurge on a meal at the Inn at Little Washington, you can extend the pampering by sleeping in one of the posh rooms upstairs, but it'll cost upwards of $410 a night. That's the cheapest room on a weekday, on top of the $138-$168 (and that's just for food) you're shelling out for dinner.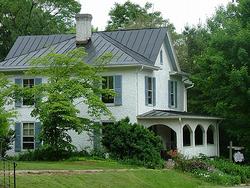 Another option is the year-old Gay Street Inn, just two blocks away—a nice stroll after a rich meal—where you'll pay considerably less ($145-$215) for one of the four cozy guest rooms. [full disclosure: One of the innkeepers is a family colleague, though on our visit we didn't receive any special treatment]. That includes a lovely breakfast—on our visit, we enjoyed moist Turkish bread, a warm spiced fruit compote, and a main dish dubbed "Ham and Eggs on a Cloud," a souffle-like indulgence served in an individual ramekin and overflowing with savory meringue. The egg's yolk is set in the middle, and digging in reveals Virginia country ham and a round of toast beneath. It's innkeeper Jay Brown's mother's recipe. "Our guests often say, oh, we're having dinner at the Inn, we'll be too full for breakfast," says Brown. "But somehow, they always end up finishing it."
Gay Street Inn, 160 Gay St., Washington Virginia; 540-675-3288; gaystreetinn.com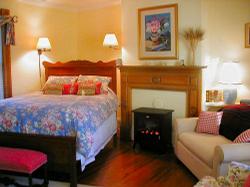 Other cute B&Bs right in the heart of Washington are the Foster-Harris House (rooms from $195, fosterharris.com) and Heritage House (rooms from $145, heritagehousebb.com). Only four East-West streets and two North-South streets comprise the town, so no matter where you stay you're in easy walking distance of the Inn and several charming little galleries and antique shops.
The Gay Street innkeepers say many of their guests drive out to Rappahannock for hiking, hunting, and wine. Since it was too cold and icy for hiking, and hunting's not really my thing, I was more than happy to pick option #3. Just a short drive down the road, Gadino Cellars is a new winery that began bottling just a year ago. I loved their laidback $4 tasting of seven wines, from a slightly sweet Viognier to a full-bodied Cabernet Franc. The winemaker's son-in-law was a pleasure to talk to and happy to answer any wine-novice questions. We passed several other vineyards nearby, like Rappahannock Cellars and Grey Ghost, and wished we had time for more stops.

Gadino Cellars, 92 Schoolhouse Rd., Washington; 540-987-9292; gadinocellars.com

A more established winery is Linden Vineyards, worth a short detour on the way back to DC. The setup is fantastic–a complimentary tasting offers pours of five wines (a 2005 Seyval, 2004 Chardonnay, 2005 Cabernet Franc, 2003 Claret, and 2005 Vidal-Riesling) in a beautiful room with picture windows overlooking the vineyards. Then, you can buy a bottle or two and relax on the glass-enclosed heated terrace with nibbles of cheese, venison sausage, and just-out-of-the-oven baguettes.

Linden Vineyards, 3708 Harrels Corner Rd., Linden; 540-364-1997; lindenvineyards.com

Even if you don't dine at the Inn at Little Washington, you can get a taste of it in their shops across the street. These five restored rooms are lavish enough to match the Inn's over-the-top decor. They're stocked with tableware, furnishings, gifts, antiques, jewelry, and kitchenware, as well as a few treats from the kitchen. The salty oat cookie—crispy outside, chewy inside, dotted with currants and sprinkled with sea salt—is delicious.

Inn at Little Washington, Middle and Main sts., Washington; 540-675-3800; theinnatlittlewashington.com