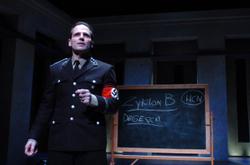 Looking to catch some theater this week? Check out the glowing reviews of two new productions, an unusual production of Peter & Wendy at the Arena Stage, and the world premiere of Either Or at Theater J. Our reviewer has the following to say:
"[In Peter & Wendy,] Bunraku-style puppets, manipulated by onstage actors veiled in white, take the parts of Peter, who never loses his baby teeth, Captain Hook, the villain who is preoccupied with being "classy," Nana, the most lovable dog puppet to ever grace a stage, and a crocodile that at one point croons and vamps in the style of Marlene Dietrich. An ensemble of musicians, also on stage, plays mainly Celtic tunes. Some characters are portrayed in cutout silhouettes. The set is deceptively simple—a pile of oversized books, for instance, is used to create a pivot, a chair, and a house, while bolts of fabric create the illusion of a rough sea. It's a joy to watch and hear."
and…
"Few world premieres, few plays in fact, arrive on stage with the force of Either Or, which is at Theater J through June 3. The playwright, Thomas Keneally, best known for having authored Schindler's List, has done it again. He has taken little-known facts and burrowed deep into their emotional, philosophical, and political repercussions."
Get more details about Peter & Wendy and Either Or, including ticket information, and more theater reviews, here.