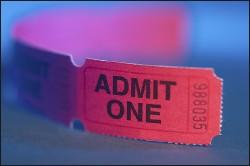 The show going on sale this week that I'm most excited for is the Wolf Parade show at the Black Cat August 21. Wolf Parade puts on a fantastic show—raucous, sloppy in the best way a rock show can be, and high-energy. Plus, their album Apologies to the Queen Mary is, long after its debut, still one of the albums in heaviest rotation on my iPod. See them now at the Black Cat before they upgrade to the 9:30 Club. And I can promise that, even if it doesn't happen within five minutes, tickets to this show will sell out. $18; they go on sale Friday, May 18 (tomorrow) at 5 pm.
Alison Krauss brings her sweet, lovely bluegrass to Merriweather Pavilion on Saturday, August 11. You can buy tickets Friday, May 18, at noon. $30-$75.
And finally, I already know that I'm nobody to pretend that I'm above loving American Idol. So instead I'll just point you to where you can buy tickets for the American Idol Live show at the Verizon Center on Sunday, September 9. Tickets are $42-$72, and on sale Saturday, May 19 at 10 am.

The Polyphonic Spree brings their cult-like harmonies to the 9:30 Club on Saturday, June 30. Tickets just went on sale for $25.