Shoe Addicts Anonymous seems to be literature's answer to Hollywood's Scary Movie and its sequels, in which every predictable scenario is played out in one 90-minute reel—or in this case, 327 pages. While I expect to find certain story lines in a book like Shoe Addicts, the hardcover fiction debut by Potomac's Beth Harbison—who has written romances as Elizabeth Harbison—combines a few too many.
Adultery, diets, sex, shopping (Prada, Pucci, Choo), shoplifting, Botox, pregnancy, private eyes, adoption, and mistreated nannies are but a smattering of the threads wrapped around four wine-sipping—and when times get tough, margarita-guzzling—women trying to find love and happiness. The formula deviates only in that it's not Park Avenue but DC's M Street down which these women click their Bruno Maglis.
Unfortunately, even Washington is watered down to banality and stereotypes. Well-known neighborhoods are referenced (Georgetown, Adams Morgan, Bethesda), Clyde's garners a mention, and a few drinks are ordered at Stetson's. Those who work here are referred to as "Beltway rats," and the behavior of government officials and their staff is portrayed in the same way it has been since Monica Lewinsky became a household name:
" 'You don't want to work on Capitol Hill,' Helene told Lorna. She was the first to arrive for the meeting, and Lorna had told her she was interviewing with Senator Howard Arpege the next morning. 'They blame everything on their administrative assistants. When they're not screwing them, I mean.' "
Helene is the wife of a philandering senator herself, yet she's blessed with an incredible ability to identify her husband's pubic hair caught between his assistant's teeth. Lorna is a debt-ridden waitress; Sandra is an agoraphobic, overweight phone-sex worker; and Jocelyn is an unappreciated nanny. They meet through Lorna's listing for Shoe Addicts Anonymous on "Gregslist.biz." The not-so-subtle reference to Craigslist is mentioned almost as often as the Maglis, yet anyone familiar with the real Web site would know that a support group would probably not be listed among the apartment ads Helene is perusing in the Bethesda area.
Nevertheless, the four women with absolutely nothing in common other than size-7½ feet band together and meet each Tuesday evening to talk, drink, trade $600 stilettos, and conquer injustices thrown their way by men, bosses, and debt collectors. Each goes through a life-altering event in the course of the book. Sandra realizes the man she thinks is her boyfriend is actually not when he tries to fix her up with his lesbian friend Debbie. It turns out he's gay and dating another woman, who used to be a man. The three other encounter similarly unbelievable scenarios.

Harbison spends the last few chapters righting the wrongs done to Lorna, Jocelyn, Helene, and Sandra, while the women develop a successful business plan to become Italian-shoe distributors. "Free shoes for life," Lorna says. "I guess it's a fairy tale come true for all of us. I guess your addictions can either kill you or make you rich."
But just when you think Harbison might come out on top and end with a remark about the importance of unconditional friends and where their support can take you, Helene responds with the closing words: "I'll take rich."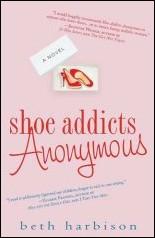 Author:
Beth Harbison
Publisher:
St. Martin's Press
Price:
$21.95
Rating:
1.5 Stars