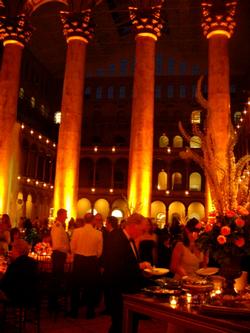 What: Christmas in June at Ford's Theatre's annual benefit gala and star-studded performance, filmed and slated to air as a ABC television special come December.
Where: A garland-swathed Ford's Theatre; dinner followed at the National Building Museum, 401 F St., NW.
When: Sunday, June 24, 7 p.m. until late.
Who: Honorary chair Laura Bush, in festive red silk, and her presidential plus-one, who tapped his feet to belted carols courtesy of gospel legend Yolanda Adams and a hardly jolly Wynonna. Performers plucked from ABC's airwaves included James Pickens of Grey's Anatomy fame, comedian Christopher Titus and Dancing With The Stars vets Jonathan Roberts and Karina Smirnoff. Also up were Grammy-winner Jon Secada and Olivia Newton-John, whose reprise of roller-rink anthem "Xanadu" was a notable deviation from holiday fare (Perhaps a plug for the soon-to-debut musical version of the 1980 film?). No-shows were country headliner Rascal Flatts and comedian D.L. Hughley.
Food: Poached salmon, pea risotto and a summery watermelon salad beckoned from tables around a green-lit fountain in the National Building Museum's ground-floor arcade. Dessert was a medley of all-American favorites like baked Alaska, chocolate cookies and generously proportioned coconut cake.
Drink: Open bar and circulating wine kept the dinner well-oiled; befitting the winter holidays, champagne was the tippler's choice.
Scene: Reveling in the faux snow were well-heeled theatre trustees, gala chairs and benefit regulars—including Catherine Reynolds, Laura Reid, Abby Blunt, Chris and Kathleen Matthews, and the requisite slew of corporate underwriters. Immediately apparent was who had the inside scoop on the theme; those of us flashing our tans in light summer frocks and sandals felt a little duped next to all the camera-ready red cummerbund sets and unseasonable stoles.
Guests of honor Rep. John Lewis (D-Ga.) and Civil War historian James McPherson drew a standing ovation as they received the Lincoln Medal, Ford's annually bestowed prize to honor embodiment of Lincolnian ideals. Still, the swish, high-octane vibe at the performance dissolved by dinner, owing to a comprehensive string of receptions and events that preceded it (a Saturday night reception under the Capitol's rotunda and a Sunday evening party at the White House launched the event). Clumps of guests chatted up Newton-John and other lingering artists at the comparatively low-key dinner over drinks, and most jetted by 10:30 or so.
Ratings:
Boldface names: 4 (out of 5)
Swankiness: 4 (out of 5)
Food and drink: 4 (out of 5)
Exclusivity: 5 (out of 5)
Total score: 17 (out of 20)