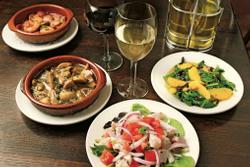 Crisp potatoes smothered in a tangy tomato aïoli. Wilted spinach perked up with pine nuts and raisins. A crock of sautéed mushrooms with a scent of sherry that hits you before the dish reaches the table. Sound familiar? If you've eaten at Jaleo—one of chef José Andrés's popular Spanish-style tapas houses—it will. That's because the guy doing the cooking is Jose Nicolas Guardado, an Andrés protégé who rose from salad cook to head chef at the Bethesda Jaleo. Now the Salvadoran native has opened his own restaurant.
The familiar dishes notwithstanding, Guardado's is humbler than its inspiration. There are no commissioned murals, no jewel-toned lanterns, no sherry martinis. Instead you'll find stripped brick walls, bud vases on the tables, and carafes of vibrant red sangría.
The menu looks beyond Spain with dishes from El Salvador, Mexico, and even Honduras, but the further you stray from tapas, the iffier the result. A Honduran-style plantain stuffed with beef and capped with a thick sheath of mozzarella tastes straight off a kids menu, while a Peruvian-style ceviche buries the fish in a soupy marinade. The seafood paella for two is bland. Much more delicious are the béchamel-laced croquetas, and shrimp in a pool of sizzling olive oil and garlic.
It may lack the polish of Jaleo, but Guardado's has promise.