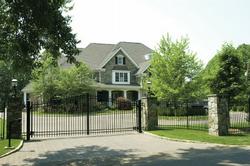 In Virginia: Former Redskins defensive back Troy Vincent and his wife, Tommi, bought a custom home on Shilohs Run Lane in Purcellville for $2.8 million. A 15-year NFL veteran, Vincent signed with the Redskins last year but was released in February.
Retired trade-association head Charles DiBona and his wife, Evelyn, sold a two-bedroom, three-bath penthouse condo on Oak Street in Arlington for $1.4 million. The condo has 12-foot ceilings and views of downtown DC. For 19 years until 1997, DiBona was head of the American Petroleum Institute, the trade association for the oil and natural-gas industry.
Developer Peter Gulick and interior designer Susan Gulick bought a three-bedroom penthouse condo in the new Midtown Reston Town Center building for $1.8 million. Peter is CEO of Gulick Group, and Susan heads Susan Gulick Interiors, a residential interior-design firm. Both companies are in Reston.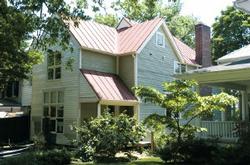 Ex–Freddie Mac chief Leland Brendsel and his wife, Diane, sold nearly 1½ acres of vacant land on Brook Road in McLean for $1.2 million. Brendsel retired in 2003 after the mortgage company admitted it had violated accounting rules.
Business executive Herbert J. Lanese spent $3.2 million for a four-year-old home in McLean. Lanese is president of DynCorp International, a private military contractor and aircraft-maintenance company with offices in Falls Church.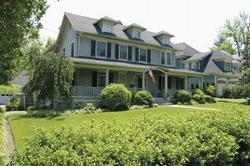 In DC: Wal-Mart PR exec Leslie Dach and his wife, Mary Dickie, traded up. The couple sold a six-bedroom, five-bath Colonial on 31st Place in Chevy Chase for $1.8 million and bought a six-bedroom, six-bath home in Cleveland Park for $2.7 million. The new house, which they bought from lawyer Steven J. Agresta, a partner at DC law firm Alston and Bird, has more than 8,000 square feet, a pool, and two kitchens. Dach, a former Democratic Party strategist and Clinton-administration official, is Wal-Mart's head of corporate affairs and government relations.
Lawyer Michael F. Curtin sold an eight-bedroom, five-bath Tudor-style home on Western Avenue in Chevy Chase for $1.6 million. The brick-and-stucco house has an au pair suite. Curtin is a partner in Curtin Law Roberson Dunigan & Salans, a DC law firm.
In Maryland: Commercial real-estate executive Stephen C. Conley sold a five-bedroom, five-bath house in Chevy Chase for $2.9 million. The house listed for $3.3 million. Conley is executive managing director of Holliday Fenoglio Fowler, a DC commercial real-estate firm.