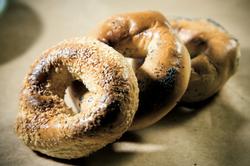 Sorry, New Yorkers—the best bagels in the world are in Montreal. And now, thanks to a change in shipping laws, the legendary Montreal bakery St-Viateur Bagel (stviateurbagel.com) is again shipping its bagels to the States.
Smaller and lighter than their New York cousins and with a larger hole in the center, the bagels are artisanally handcrafted—no machine stamping—and baked in a wood-burning oven. Handmade bagels mostly vanished here in the 1960s, victims of the new bagel machines.
The St-Viateur bagels lose a little something in the three days it takes them to arrive by mail, but popping them into the toaster for a few minutes brings them back almost to their original, glorious state.
You can find cheaper bagels—including shipping, a minimum order of six dozen costs around $60—but not better bagels.