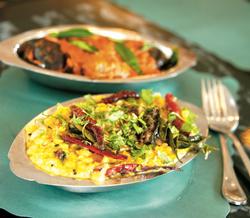 You could spend months sampling the 160-item menu at this strip-mall dining room, which serves neither meat nor alcohol and specializes in the vegetarian cooking of India's north and south, and still find it fascinating. If you need guidance, an army of servers in blue polo shirts is there to help, and a printout tacked to the wall lists the month's most popular dishes.
There are vibrant stews and terrific curries, but the kitchen soars with its starches. Rice-flour dosas, India's answer to crepes, are crisp, greaseless, and folded around such fillings as buttery onions and peas or masala-style curried potatoes. Uttappams are closer to pancakes, and you'll find the area's best green-chili-and-onion rendition here, plus treats like idli (steamed rice cakes) and vada, which are more like doughnuts and come soaked in tart yogurt or sambar. Don't miss the basmati-rice dishes—an aromatic coconut version with curry leaves and mustard seed, or a more assertive tamarind.
Subdued lighting has enhanced the functional dining room, and a projector rigged into the ceiling shows Bollywood hits on a big screen, but it's hard to woo much attention away from what's on the table.
Open daily for lunch and dinner.