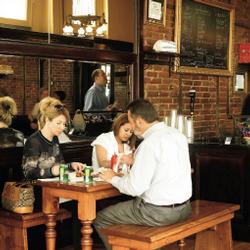 Part Irish bar (dark wood, ornate mirrors, Guinness draft), part eat-in/take-out, this offspring of Restaurant Eve turns out crisp hunks of cod and skate in grease-spattered paper bags (we think the secret to the batter is beer, but no one will tell).
Chef Cathal Armstrong's seven dunking sauces, including a mild curry and a zippy tartar, are a nifty gourmet touch, while the thick chipper-style fries and coleslaw (practically health food in this lineup) aim straight for the heart. For fryer fans, battered burgers, sausages, and even candy bars make a good showing. But sensible folks will content themselves with a Cadbury Flake.
There is, after all, a limit to how many fried things you can eat at one meal—although this playfully kitschy chip shop seems determined to prove otherwise.
Open daily for lunch and dinner.