In restaurants as in most everything else, there are dull successes just as there are interesting failures. Oyamel, in its original incarnation, was an interesting failure.
It occupied a cold showroom of a space in Crystal City, an impersonal setting for a restaurant that wanted to convey the excitement and complexity of regional Mexican cooking. It wore its high-minded concept on its sleeve, installing a team of Latina women in the front of the kitchen to show that the tortillas were made by hand. The food was often as dazzlingly conceived—chicken in a rose-petal sauce—as it was disappointing.
What's different about Oyamel 2.0, newly relocated to a storefront in the heart of DC's Penn Quarter?
I was skeptical that moving across the river and bringing in a new chef—Joe Raffa, who had manned the stoves at the Majestic Café in Old Town—was enough to transform an interesting failure into an interesting success. Then I dug into a bowl of avocado soup—a cool, creamy broth whose color was so electric green it looked as though it had been painted. Into the bowl the kitchen had swirled a chipotle cream and strewn a small handful of fresh lump crabmeat. I had just come in out of the heat, and the bowl cooled me down even more than the air conditioning did. The soup was followed by a plate of short ribs, which wore a frilly cap of green tomatillos and cilantro and sat in a puddle of tangy mole verde that mitigated the unctuousness of the braised meat.
Here, I thought, was the depth and intensity that the old Oyamel often lacked, yet the kitchen had sacrificed none of the color or artfulness in the exchange. Here, too, was a bustling, intimate space that restored a sense of proportion to the proceedings, an atmosphere that looked and felt like a tapas joint. All around me at the bar, servers passed by balancing two and three plates while the bartender mixed blood-red hibiscus margaritas and diners waiting for tables cast furtive glances at their neighbors' plates. The place seemed to be feeding off the neighborhood, the energy inside reflecting the energy of the throngs outside—theatergoers, moviegoers, concertgoers, tourists, shoppers, and diners who have turned Seventh Street into a nightly parade.
Was this the same restaurant?
It was almost akin to a transplanted heart that functions better in the new body than it ever did in the original.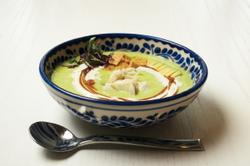 The move from Crystal City to the cozy confines of Penn Quarter seems to have liberated Oyamel from the burden of its early ambitions, recontextualizing it as a satellite of chef José Andrés's other places—Jaleo, Café Atlántico, and Zaytinya, all within a short walk of one another—and giving it the rare opportunity of a do-over.
Gone are the tortilla makers on display, replaced by a ceviche bar that turns out good, vibrantly arrayed selections of marinated fish. Gone, too, is the sense of a place that labors under the awareness that it is reinventing a cuisine, refitting the earthy flavors of Mexico into the eye-catching bites that Andrés's tapas empire demands.
While Andrés and company have ratcheted up the boldness of the flavors on the new menu, they have curbed the tendency toward hype (well, mostly—twice we're told that a selection is a favorite of executive chef Andrés) and the inflated promises of revelation.
This is food that's engineered above all to entertain—that all but demands to be the focal point of conversation. It's also meant to be consumed in a few bites, so it had better make an immediate impression.
It does. Saucing, a weakness of the original, has improved markedly, from the terrific trio of salsas to the complex moles that animate most of the dishes. A fabulous pumpkin-seed sauce garnished with a slick of pumpkin-seed oil and a scattering of toasted pumpkin seeds is so good you could scoop it up with a warm tortilla to eat by itself. It's even better with a plate of two fat scallops, the nutty bitterness of the sauce cutting the sweetness of the meat, which has been seared to a medium-rare translucency. A thick, smoky chipotle sauce has more body than the soft, light meatballs it bathes. A mole Almendrado sauce—made with ground almonds, chili, and a trace of bitter chocolate—transforms a plate of grilled Cambray onions into something memorable. The mole verde that makes magic with the short ribs also turns up with a filet of seared salmon. The salmon was a touch overcooked, but the sharpness and vibrancy of the sauce nearly made up for it.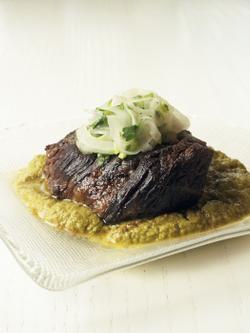 It's in the salads that you can best appreciate Andrés's genius: They're often as vivid and imaginative as plates twice as large—and three times as expensive—in other restaurants. They include a tomato salad inspired by the Chiapas region of Mexico that's garnished with pork rinds, a "gazpacho" that confused my companions until they dug in and realized it was a terrific fruit-and-veggie salad, and sweet chayote slices topped with double-cream cheese and crushed peanuts and drizzled with a hibiscus dressing.
One of the specials is an inspired riff on a Mexican street-food staple, an ear of corn blanketed with cheese and sprinkled with chili powder; it shows up as a plate of Chinese baby corns that have been lightly grilled, buried under queso blanco, and drizzled with chili sauce.
More-conventional dishes are no less rewarding, perhaps because they're not so conventionally rendered. The tamales retain their rootsy simplicity and heft despite being much lighter than the lard-laden versions at most Mexican restaurants. A chicken soup, caldo Tlalpeño, is similarly deceptive. A spoonful of chipotle sauce lends a smoky back taste to the rich, oil-beaded broth. Tortilla soup works the other way: A thick, velvety purée that looks as though it might make a full meal is more delicate than hearty and is remarkable for its clarity—you can appreciate the tastes of tomatoes, onions, and garlic in each bite. The refried beans, amped up with melted Chihuahua cheese, are as rich and luxuriant as any dish made from beans can be. (Note to staff: Tasty as these plates are, I don't want to keep looking at the smeared remains throughout my meal.)
The guacamole is made tableside in a molcajete, the server mashing and mixing fresh avocados and seasonings with a giant wooden spoon—the Mexican equivalent of fileting a Dover sole or flambéing a baked Alaska. It's no empty show. You're not likely to find a better preparation in town. My mother, not a guac lover, dug in for seconds. Another guest snatched the wooden serving spoon for licking as the waiter hauled the remains away.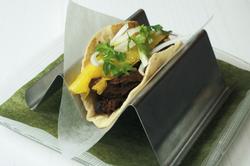 Is it worth $13? Is any guacamole worth $13?
This is one of the deceptions of Andrés's small-plate emporiums, with their promise of endless adventure—a night of plenty without having to pay the price. Except it seldom works out that way. We don't quite know how many of the plates—which are always smaller than an entrée but sometimes tinier than an appetizer—to order. Which makes it hard to know how much we're spending.
Few dishes at Oyamel exceed $9, but don't expect your bill for two to come in under three digits, especially if you're drinking. Those tasty hibiscus margaritas are dispensed in what charitably can be called juice glasses—and they cost $11.
You can order a "big" plate—there are three of them, expanded versions of smaller portions—but what seems exciting in a few bites becomes a little less interesting when you sit with it for 15 minutes.
I'd also resist the allure of the tacos, which, despite all the detail that goes into them, fall short of the luscious ideal found in a great taqueria. The best of them might be—no joke—the grasshopper taco, a heaping of crunchy, chili-slicked critters sandwiched between soft corn tortillas and dolloped with guacamole. I was hard pressed to get anyone else at my table to partake, but that had mainly to do with the idea of eating bugs; the smell was heavenly.
Desserts are another work in progress; they lack the intensity and precision of those in the old location. I wouldn't send back the tres leches cake, the goats'-milk cajeta, or the warm chocolate cake if they showed up on my table, but I'd prefer to wind down with a simple cup of warm, spiced chocolate.
These are quibbles, though—and they pale beside my list of complaints about the place in its first incarnation. Nearly three years after its debut, Oyamel has finally worked out the kinks. It took a chef change, a bold menu rethink, and a move across the river to more modest surroundings for Andrés, the tapas master, to rediscover what he's known all along: Keep it small, and amp up the flavor.