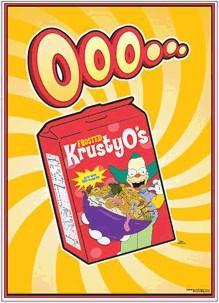 With the release of The Simpsons Movie this weekend, a couple of local businesses are capitalizing on the tie-in possibilities. The Tex-Mex chain Austin Grill tabbed its Springfield outpost to serve a 12-inch "Homer" burrito, stuffed with ground beef, three cheeses, jalapeños, and mashed potatoes. And a 7-Eleven in Bladensburg is doubling as a Kwik-E-Mart as part of a national promotion, complete with Squishees and Krusty-O's cereal on the shelves.Which got us thinking: Why shouldn't other Washington-area restaurants step up and Simpsonize their menus? A handful of suggestions:

Squishee With a Kick: What about an over-21 version of Apu's fluorescent-colored slushy? Indebleu's snazzy lounge, which already boasts 50 drinks on the menu, ought to add a 51st.
Krusty Burger: The wiry-haired clown mascot is clearly a spoof on Ronald McDonald. But what's different about the signature Krusty burger? The addition of dead insects and staples—a terrifyingly convenient binder for other half-eaten burgers. Hmm . . . where are bugs served in Washington? Oyamel offers grasshopper tacos for Fear Factor-caliber eaters. Maybe it could fold a few crispy critters into a meat patty and replace that tortilla with a bun?
Luigi's Risotto: Remember the Italian chef with the broken English—one of Hank Azaria's many genius voices on the show? The spaghetti dish he made for Santa's Little Helper—the Simpsons' family pooch—and his canine date was a classic, a clever reference to the iconic Lady and the Tramp scene. A La Lucia already does a nifty job with pastas that harken back to a simpler, saucier era of Italian food—maybe the kitchen could work up a fitting risotto homage?
The Definitive Donut: Must . . . have . . . bubblegum . . . pink . . . frosting . . . and . . . rainbow . . . sprinkles. Restaurant Eve already has the frosting down, which it lathers all over its birthday cake. But can it make the switch from a moist, pound-cake-like base to circular fried dough?
"Duff" Beer-Marinated Pork Chop: Why, it's Homer's two favorite food groups! Frank Morales at Rustico already loves toying with beer, as evidenced by his "hopsicles"—basically, frozen Belgian fruit ales on a stick. Because Rustico's menu is built on comfort foods, this Homer-inspired dish would play to both of the restaurant's strengths.
Bart's Butterfinger: Crispity, crunchity, peanut-buttery . . . . Michel Richard has already come clean with his affinity for store-bought candy bars. His brasserie, Central, Michel Richard, serves an upscale Kit Kat bar. Good practice for what we hope he creates next. Nobody lay a finger on Richard's Butterfinger.
Restaurateurs, chefs, managers—you know where to reach us to thank us. In the meantime, all you fans of the yellow-faced gang can stuff your faces with Austin Grill's beefy "Homer." The restaurant is located at 8430-A Old Keene Mill Road in Springfield; 703-644-3111.