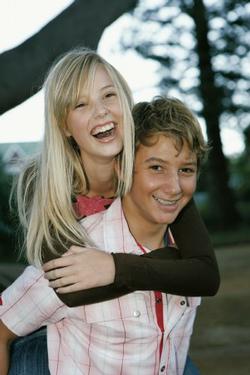 Mary had been hanging out with Joe for a couple of weeks when she logged on to Facebook and discovered he wanted something more serious.
"You have a relationship request from Joe," a message from Facebook read. "Confirm or reject?"
Mary wanted to date Joe, but if she hit confirm, Facebook's newsfeed would announce the two as boyfriend and girlfriend. Once it's on Facebook, it's official.
"It's a really personal question the computer's asking me," says Mary, a junior at National Cathedral School. "I wanted to call him and be like, 'You didn't talk to me about this. I don't know how I feel about the whole world knowing.' "
Mary is a throwback to the days when a boy actually spoke to a girl to get a date. Today teens can use the site to flirt—or "poke," as Facebook calls it. Distance emboldens them. Calling can be awkward. Instant-messaging and texting are too personal, and hardly anyone sends regular e-mails anymore.
"It's easier, if you think a guy's cute, to shoot him a wall message or poke him," says Jen, a sophomore at James Madison High in Vienna. "Poking shows interest, but not really. It's not like saying, 'Oh, my gosh, let's hang out.' "
Kids get prom dates via Facebook. A Northern Virginia student says a girl from her school even used Facebook to come out as a lesbian. She flipped her profile from "interested in men" to "interested in women," then let Facebook deliver the bombshell.
Teens pore over the volumes of information on Facebook—and invariably misread what they see. A sophomore at Flint Hill School in Oakton got dumped because her boyfriend thought she was cheating with a guy who wrote, "Hey, babe—what's up? I miss you," on her wall. The message meant nothing—she'd known the other boy forever—but her boyfriend didn't believe her.
"I cannot tell you how many times people break up because of what's on their wall," says one of her friends.