Years ago, the Center for Science in the Public Interest shocked lots of people by exposing the ghastly number of calories in Kung Pao chicken and movie popcorn. Then came the film Super Size Me, which revolted moviegoers with the fat-laden, sugar-drenched realities of a McDonald's meal. Just thinking about it was enough to make your pants feel tight.
But what about a sit-down meal at a good restaurant? According to a Zagat survey, Americans in big cities eat out, on average, four times a week. What exactly are we consuming when we sit down to a restaurant dinner?
We set out to find out. We dispatched staff to pick up three-course meals from five restaurants, each with a different cuisine. Then we packed the food up in containers filled with dry ice and shipped it to a lab in Des Moines, Iowa, for burning—yes, burning—to measure its caloric content. We also had it tested for proteins, fats, and carbohydrates.
The results: Who knew that a three-course sushi dinner has more carbs than a three-course French dinner? Going out for Thai sounds like an excursion into light, bright cooking, but a meal at a Thai restaurant can be nearly as caloric as one at the Cajun restaurant Acadiana. Note to all the lobbyists who chow down on the latter's shrimp and grits and beignets several times a week: In one dinner you may be taking in more than a day's worth of calories.
Lab results in hand, we invited two experts to help us make sense of the numbers. Walter Scheib, who as White House chef under Bill Clinton and George W. Bush was tasked with finding out the nutritional content for every meal he served to the First Family—and who went on diets with First Ladies—commented on each dish. Katherine Tallmadge, a DC nutritionist who has been a guest expert on TV shows from Food Network programs to Good Morning America, offered commentary and alternative recommendations for each meal.
Our hope is not that you'll come away from this vowing to steer clear of these restaurants. Rather, we hope you'll come away a wiser, healthier diner.
Thai: Sala Thai (2016 P St., NW)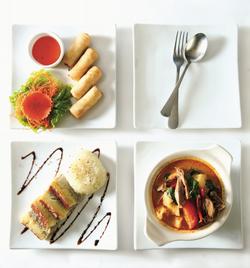 Menu
Vegetable Spring Rolls With Sweet-and-Sour Sauce
Roasted Duck With Red Curry Sauce, Side of White Rice
Thai Coconut Custard With Sweet Rice
Calories: 2,226
Carbs: 307 grams
Fat: 82 grams
Protein: 65 grams
Walter Scheib says: "[Spring rolls] are little grease sponges. But there are wonderful things called summer rolls, which are basically spring rolls that are fresher and lighter—and without the deep-fried part."
"Thai desserts are based on rice and coconut. Go for sorbets or fruit ices—just not coconut ice cream, which is basically frozen butter. Ask if they've got a fresh mango with a squeeze of lime."
"Most people think of Oriental cuisines as 'light.' When I worked at the White House, this is what Mrs. Clinton used to call gratuitous fat—fat in your food that you don't necessarily see. You've got coconut milk, which is straight fat, and then the duck skin."
What to get instead: Coconut milk is the biggest source of calories and fat on this diet-busting menu. Often you don't even know it's there. Instead look for dishes that get their flavor from citrus juices, spices, vinegars, and herbs.
Katherine Tallmadge, a Sala Thai regular, orders lemongrass soup, beef salad, and steamed whole fish: "If your main dish is a lot of food, you probably don't want the extra rice. A cup is 200 calories." If you're going to have noodles, get cellophane noodles, made with mung beans instead of flour. And keep in mind that at many Asian restaurants, portions are served family-style and meant for sharing.
Japanese: Kaz Sushi Bistro (1915 I St., NW)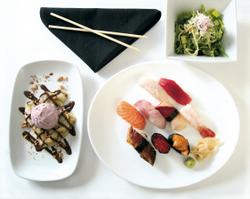 Menu
Seaweed Salad With Sesame Dressing
Nine-Piece Sushi Assortment
Banana Tempura With Black-Raspberry Ice Cream
Calories: 1,132
Carbs: 140 grams
Fat: 50 grams
Protein: 32 grams
Walter Scheib says: "The meal is still a fair amount of carbs, but the fat is really low. And all the fat is in the dessert and maybe the sesame oil in the seaweed salad."
"With sushi, make sure you don't go for all rolls, like Dragon Rolls—and have some sashimi. Of the nine pieces, you should have four that are rice-based and four that aren't."
"I'm going to bet that the banana is more than 500 calories of this meal. Have a fresh banana with raspberry sorbet, and you'd get this down to less than 1,000 calories."
What to get instead: "Japanese is a dieter's nirvana because there are so many fish choices," Tallmadge says. "Everything is served very simply, without fattening sauces."
Neither she nor Scheib would change anything except the banana tempura. "Stick with the traditional Japanese dessert—fruit," Tallmadge says. And careful with the drinking: A couple of Sapporo beers, and the calorie count will skyrocket.
French: La Chaumiere (2813 M St., NW)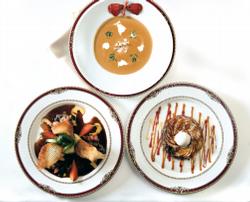 Menu
Lobster Bisque, Piece of Baguette
Medallions of Beef Tenderloin With Red-Wine Sauce
Hot Apple Tart à la Mode With Caramel Sauce
Calories: 1,687
Carbs : 136 grams
Fat: 94 grams
Protein: 74 grams
Walter Scheib says: "A heavy-duty soup with a ton of cream and roux—a mixture of flour and butter. You could get away with that and some bread and a salad, but if you're going to have something else too, I'd look for a consommé or something lighter."
"The beef should be pretty good as long as the red-wine sauce isn't mounted with a lot of butter—that's the technique of whisking butter into a sauce that a lot of French use."
"Remember that the French didn't need ice cream or caramel sauce with their apple tart. They were quite happy just to have the wonderful pastry dough."
What to get instead: Since the birth of haute cuisine, French food has been famous for its decadence. But there's a wealth of healthy options on La Chaumière's menu.
Onion soup, as long as it doesn't have a thick cap of Gruyère, makes a good starter. So does scallops with tomato and garlic, baked mussels, or a poultry sausage served with an accompaniment such as mustard. Tallmadge, who admits to being addicted to La Chaumière's Grand Marnier soufflé, would spend her other calories on smoked salmon or oysters on the half shell.
Tallmadge calls the beef tenderloin a "terrific, light choice"—tenderloin is the "leanest luxury cut"—and says the dish is even better for you with the sauce on the side. She also green-lights the restaurant's venison medallions and salade niçoise.
Italian: Al Tiramisu (2014 P St., NW)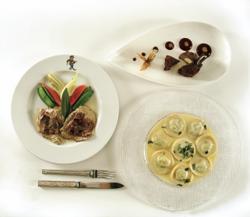 Menu
Slice of Foccacia, Slice of Italian Bread
Spinach-and-Ricotta-Filled Agnolotti With Butter and Sage Sauce
Veal Saltimbocca With Parma Ham,Sage, and Frascati Wine
Tartufo al Cioccolato (Zabaglione Cream WithChocolate Gelato, Hazelnuts, and Cocoa Powder)
Calories: 1,406
Carbs: 105 grams
Fat: 85 grams
Protein: 55 grams
Walter Scheib says: "You've got to have the foccacia here—it's too good. I'd skip the other bread and have two pieces of foccacia as a first course."
"Ricotta is sort of a toss-away—it's just white mush. You could get the same flavors from a whole-grain pasta with spinach, olive oil, garlic, and maybe some pine nuts."
"Of all the things on here, the saltimbocca is one of the most responsible. It's probably about 350 calories and not much fat."
"The real star of this dessert is the gelato. Have a scoop of that and an espresso, and you're going to be just as happy. And if you drop the zabaglione—basically cream and eggs—you'll lose 250 calories."
What to get instead: Tallmadge was impressed with the relatively low-cal results at this Italian dining room: "If you did without the dessert and bread, your meal might be fairly reasonable." She'd again pick a single indulgent course, then supplement it with healthier choices: beef carpaccio, escarole soup, one of the salads, or the poppyseed-crusted tuna over balsamic-marinated onions.
Craving pasta? She suggests choosing one with a tomato-based sauce rather than butter. And remember, in this era of portions run amok, many appetizers can double as main courses.
American: Acadiana (901 New York Ave., NW)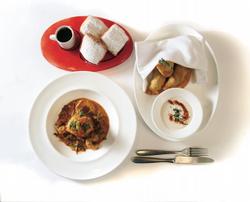 Menu
Buttermilk Biscuit With Creole Cream Cheese
Trio of "Pies": Natchitoches Meat Pie, Louisiana Crawfish Pie, Southern Vegetable Pie, Black-Pepper-Buttermilk Dipping Sauce
Southern Shrimp & Grits
Beignets du Vieux Carré With Chocolate Panna Cotta, Chicory-Coffee Gelée
Calories: 2,430
Carbs: 223 grams
Fat: 131 grams
Protein: 89 grams
Walter Scheib says: "
"My mother used to say, 'Sometimes people aren't hungry; their mouth is just lonely.' That's what happens a lot with a bread basket. If you're going to have the biscuit, have it with a gumbo and use it to sop up the sauce. Then it becomes a component of the meal, not an add-on."
"I imagine, since the appetizer is a trio, that it's as big as an entrée. Share it with two or three people. And this looks like a heavy-duty sauce. Ask for hot sauce, and spritz it on instead."
"A wonderful dish, but if you're going to have the shrimp and grits, have nothing else. The grits have a ton of butter and cheese. I'm sure the shrimp has been sautéed in a fair amount of oil. And tasso cream is delicious, but it's reduced cream and tasso. You might as well mainline butter."
"Beignets are basically doughnuts. There are almost 223 grams of carbohydrates in this meal—that's almost eight ounces of flour."
"This menu is all animal fats and refined flour. You've had an entire day's worth of calories in one shot—without a drink. Unless you're out pulling nets in the bayou, burning 8,000 calories a day, that's too much."
What to get instead: "These are some of the most fattening items on the menu, smothered in cream or deep-fried," Tallmadge says. She recommends splurging on one of the courses and lightening up on the others.
To balance the meal, she suggests oysters on the half-shell, grilled chicken salad with chow-chow, sugarcane-skewered tuna, or beet salad with goat cheese.
"Eat the biscuit at Acadiana if it's an occasional treat—it's delicious. But biscuits and muffins are fattier than just bread. They don't need the cream cheese."
Tips for Healthy Restaurant Dining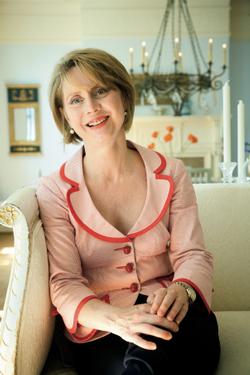 What should you pay attention to when dining out?
■ When ordering seafood, Walter Scheib recommends, pay more attention to the way it's prepared than to the type of fish. A fish that's pan-fried, pan-seared, or breaded will probably be swimming in butter or oil. Grilled or broiled fish is apt to be healthier.
■ Become color-conscious. "If you don't see at least four or five colors in your meal, you're probably not getting enough variety," Scheib says.
■ Ask what's on the side dishes. Vegetables might sound harmless on a menu, but cheese and butter sauces hike up calories.
■ If you have a craving for meat, Scheib and Katherine Tallmadge agree, beef tenderloin is much healthier than fattier sirloin, rib eye, or prime rib. Look for braises or pot roasts, where much of the fat has been cooked off. "Everybody makes a big deal about dry-aged prime steak," Scheib says. "You've reduced the amount of liquid and increased the amount of fat. It's the same nutritional breakdown as taking a regular steak and slathering butter all over it." Trendy Japanese Kobe beef is basically "fat marbled with meat," Scheib says. It's meant to be eaten in shavings, not five-ounce slabs.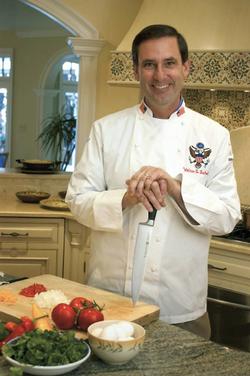 ■ Pork loin is much leaner than ribs or a chop.
■ Think about the way you eat at home—one protein, two vegetables—and order accordingly. "I'd order an appetizer as your main course, or split a main course," Tallmadge says.
■ Salads aren't necessarily nutritious. "Salads are fine," Scheib says. "It's the little piece of cheese, the crust of bread, the dressing that's not. Anyone who gets Russian or ranch dressing might as well take melted butter and pour it over whatever they're eating."
How Many Calories Should You Eat a Day? How Much Carbs, Protein, and Fat?
Here's how many calories and grams of carbohydrate, fat, and protein that nutritionist Katherine Tallmadge recommends people eat each day.
Calories: women 1,800 to 2,000, men 2,000 to 2,300.
Carbohydrates: women 202 to 325 grams, men 225 to 373 grams.
Total fat: women 40 to 78 grams, men 44 to 89 grams.
Protein: women 45 to 125 grams, men 50 to 144 grams.