Firefly always has had two things going for it: an interesting space—the warmly lit dining room is set around a giant gnarled tree, its branches twinkling with glass lanterns—and killer cocktails, including an icy tumbler of Knob Creek bourbon with iced tea and bourbon-soaked peaches, and a margarita with chili-infused honey. The food has been less reliable.
Enter chef Daniel Bortnick, who took over the kitchen in March. His new menu is a mix of culinary trends: everything from TV-dinner-chic miniature pot roasts to puff-pastry-wrapped goat-cheese "Wellingtons" that seem straight off a Capote-era canapé tray. There also are lots of local hams, cheeses, and vegetables to satisfy the farmers-market-obsessed—more than ten area farms and purveyors get credits on the menu.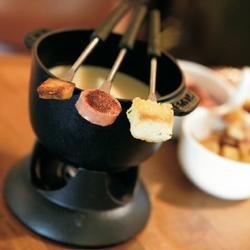 Move beyond the winks and nods, though, and there are some rewards. Best are the sharable small plates, which you can nibble in the no-reservations-necessary lounge. Bite-size Roma tomatoes spill over with herby Provençal-style bread-crumb stuffing. Fried oysters are served with "po'boy sauce," a wonderfully tangy spin on rémoulade. Meatballs fashioned from pork, veal, beef, and bacon are doused with creamy tomato sauce. Another irresistible pleasure has a Wisconsin accent (Bortnick started his cooking career in Madison): a cast-iron crock filled with beer-and-cheddar fondue, with roasted potatoes, crusts of bread, and half-smokes for dipping.
Alas, the kitchen isn't minding all the details. When the copper bread basket arrives, an unfolded cloth napkin reveals bronzed, salt-flecked Parker House rolls—a joyous sight, but the dry buns don't taste nearly as buttery as they should. The Old Bay crab dip might inspire fantasies of creamy comfort food, but the crabmeat is stringy, the dip mild on spice, and instead of a crusty baguette, the accompaniment is a handful of hard croutons. Many of the larger plates, which include crab cakes with soupy caraway slaw and a chicken pot pie, are forgettable.
The change at the stove notwithstanding, Firefly remains much as it was: a great place for drinks and a round of appetizers. With a long dinner, you take your chances.