If you like the retro pink birthday cake at Old Town's Restaurant Eve, you'll feel at home at the Majestic, a few blocks away on King Street.
The newest acquisition among chef/owner Cathal Armstrong's lineup of Old Town eatery/bars, the restored Majestic—formerly Majestic Café—isn't a foodie haven like Restaurant Eve or a hangout for would-be hipsters like Armstrong's fish-and-chip shop, Eamonn's, and PX, the swanky speakeasy above it.
The Majestic is all about memory and comfort. Memory of summer succotash and spring's minted peas, Mom's meatloaf and Grandma's calf's liver, childhood's strawberry shortcake, milkshakes, and cookies. Comfort is in the details: the receptive waitstaff, butter-yellow walls and amber accents, a kitchen that sources produce and meats as assiduously as Restaurant Eve but doesn't brag about it—you have to ask the waitstaff to find out that the roast chicken is an organic bird from Polyface farm near Staunton, Virginia.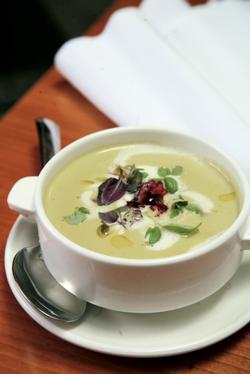 The diner—lovingly revitalized six years ago by Susan McCreight Lindeborg, who has since retired and moved to New Mexico—seems tailor-made for Armstrong and his wife, Meshelle, who have a knack for transforming vintage Old Town addresses into chic dining spots. Joining them once again is cocktail chemist Todd Thrasher, also a partner in Eamonn's and PX. Thrasher's wife, Maria Chicas, is the new restaurant's very visible manager.
Chef Shannon "Red" Overmiller comes to the Majestic from Eve, and much that issues from her bustling open kitchen is very good. It starts with a basket of hot breads—a flaky, garlic-scented biscuit so buttery it needs nothing else, a mini-muffin studded with kernels of corn, and a crusty white dinner roll.
Asparagus soup, evoking ladies' lunches and country-club dinners, gets a tweak with artful swirls of puréed beets and goat-cheese cream, the flavors melding beautifully. A country terrine made with farm-raised pork is some of the best I've eaten—rough, rustic, rosy, and full of flavor. Crab cakes have an appealing crust and clever adornments: pickled red onions for crunch and a spicy rémoulade.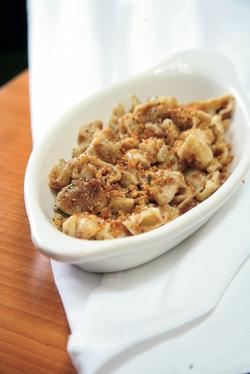 Whole broiled sardines flecked with bits of roasted garlic, caramelized onion, and preserved lemon make a briny mouthful. If fried oysters are a special, by all means indulge. They're crisp, salty, and sweet, even better with a drizzle of rosé sauce—a mixture of mayonnaise, sun-dried tomatoes, and Tabasco. The airy ovals of housemade chicken pâté are equally memorable. And the Majestic waitstaff scores points for giving the prices of specials before the descriptions: "For $12 we have . . . ."
Main courses are homier and more grounded: juicy roast chicken with a crisp crust and pan gravy, for instance, or slabs of seasoned meatloaf with buttery mashed potatoes and green beans perfumed with garlic, caramelized onions, and housemade bacon.
Not everything is so evocative. A New York strip is flavorful but oversalted. French-fried potatoes are reminiscent of the boardwalk variety—stubby and floppy, not the twice-fried, ultra-crisp wonders found in area French and Belgian dining rooms. Soft-shell crabs sport brittle carapaces, but a tomato relish overwhelms their delicate flavor. And those minted English peas are overcooked: not quite mushy—a preparation favored in Ireland and England—but definitely on their way.
The grilled whole fish—branzino on one visit—needs no tweaking. It's dazzling. A mouthful of the smoky charred fish, another of the shaved-fennel salad dressed in olive oil and lemon, and the effect is transporting.
Many restaurants flub it when it comes to pasta, but Overmiller's housemade noodles are the menu's sleepers. Orecchiette with scattered garlicky bread crumbs is on its way to becoming a comfort classic, and specials such as housemade fettuccine with an earthy Bolognese sauce is Italy in a bowl.
Cocktails are in keeping with the '60s feel—a well-made sidecar, tart with sour mix; a ginny Tom Collins; a timeless mint julep served in an icy pewter cup. The wine list has much to recommend it. In this day of inflated by-the-glass tariffs, most here are under $8. And the selection is varied and interesting.
As was the case at the old Majestic Café, cakes, pies, and ice cream dominate at the end. Pastry chef Rebecca Willis has yet to reprise Eve's birthday cake, but there are other good layer cakes, ranging from coconut-and-rum to devil's food to banana cream; the flavors change daily.
An icebox cake made with cookies, chocolate mousse, and mint-chocolate-chip ice cream is a '60s staple that might be better left in memory—all fluff and no substance. A bittersweet-chocolate milkshake tastes thoroughly modern. And the excellent egg creams—the strawberry is especially fine—will leave a frothy mustache, a reminder of long-ago youth.