What: Premiere of the HBO documentary Alive Day Memories: Home From Iraq (debuts Sunday, September 9, at 10:30 PM).
Where: Ronald Reagan Building and International Trade Center
When: September 5, 7:30 PM
Who: Despite ceding the spotlight to the wounded soldiers in attendance—including a courageous triple amputee in his early twenties—the guy who played Tony Soprano is pretty hard to miss. Fresh off his final season on The Sopranos, James Gandolfini—making his return to HBO as executive producer of Alive Day Memories—towered over most guests in his all-black suit. During the prescreening reception, he was joined on the Ronald Reagan building's spacious concourse level by HBO copresident Richard L. Plepler, secretary of Veterans Affairs Jim Nicholson, and former commander of Multinational Force Iraq General George Casey Jr.
Food: Pita bread, falafel, and hummus gave the atmosphere an appropriate Mediterranean feel. The chicken and beef kebabs, served with gravy, and mini-pizzas were the biggest hits. Following the screening, an assortment of fruit, bite-size cheesecakes, bread pudding, brownies, fruit tarts, fondue, and vanilla- and chocolate-mousse cups topped with whipped cream were served.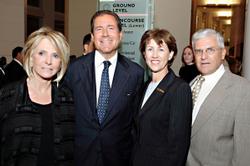 Drink: Ravenswood white and red wine, along with the usual assortment of nonalcholic drinks.
Scene: Roughly 500 people who couldn't wait for the cable premiere arrived at the theater to choose from orchestra, terrace, and balcony seating. Everyone was greeted by Plepler, who introduced and thanked the film's production staff, including Gandolfini and president of HBO Documentary Films Sheila Nevins.
Tears began flowing just moments into Alive Day Memories. The film features interviews Gandolfini conducted with ten severely wounded Marines and other soldiers about their "alive day"—the day they narrowly escaped death in Iraq. These interviews are intertwined with horrific photos and video footage of the explosions.
"It's an honor to be able to help these soldiers tell their stories about what is really going on in Iraq," said director Jon Alpert, who has worked on ten films with HBO, including Baghdad ER. "We're hoping to help the American people understand what happens when we go to war."
Following the hourlong documentary, eight of the heroes featured in the film lined up on stage for a standing ovation.
See below for ratings and photographs of the event.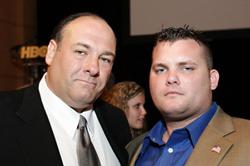 Ratings (out of 5):
Boldface names: 3
Swankiness: 2
Food/drink: 3
Exclusivity: 2 out of 5
Total score: 10 (out of 20)