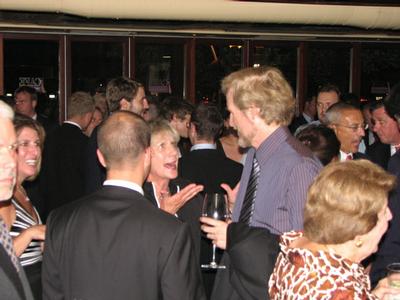 What: GQ's Most Powerful People in Washington party
When: Monday, September 10, 6:30 PM
Where: Café Milano
Who: Because those on the list were powerful and busy, most didn't show, meaning the gathering was largely a mix of journalists, PR types, and politicos. Those on the list in attendance—from the ONE Campaign's Susan McCue to the New Democrat Network's Simon Rosenberg to Senator Pat Leahy and the Palm's Tommy Jacomo—seemed outnumbered by local gossip columnists including John McCaslin of the Washington Times, both halves of the Washington Post's Reliable Source, and Wonkette's Alex Pareene. Other notables, not on the list, included the White House's Leslie Fahrenkopf, AOL's Jim Kimsey, CNN's Ed Henry and Suzanne Malveaux, the Ashcroft Group's Juleanna Glover Weiss, the Post's Jonathan Capehart, GM's Debbie Dingell, and the always dapper Franco Nuschese. Also present were GQ's men of the hour—correspondent Richard Draper, author of the new Bush blockbuster Dead Certain, and Ryan Lizza, who penned the Most Powerful issue's cover story on Barack Obama.
According to organizers' tally, 20 of the 56 "Most Powerful People" actually showed for some portion of the evening, although none of the list's biggest names. Beyond Leahy, Rahm Emanuel was the only government or elected official who put in an appearance, according to organizers.
Food: A surprisingly modest selection of passed-around appetizers.
Drink: Open bar, but the drink of choice was lots of water.
Scene: When Qorvis, the PR company that ran last night's party, promised it would be one of the fall's "hottest" events, no one guessed that was meant literally. The steaming party, where the 85-degree outdoor air felt like a cool breeze, left guests embarrassingly dripping in sweat and grasping for drinks of water. The party, which reached critical mass by about 7:30, largely emptied out quickly as the heat got to guests. The paucity of boldface names also left people scratching their heads: By naming the city's most powerful, did GQ actually limit its guest list—powerful players in the city who didn't make the list weren't about to show up to a party where they didn't rate? For instance, Maureen Dowd, who didn't make the list, spent last night dining at the nearby Hook.
Ratings (out of 5):
Boldface names: 2.5
Swankiness: 3
Food and drink: 2.5
Exclusivity: 3
Total score: 11 (out of 20)
More photos below.