Atlanta doesn't have the reputation for deliciously sinful Southern cooking that New Orleans boasts. Its cuisine is best known for…well, Georgia peaches. Sure, they're wonderful (especially in summer) but a recent weekend trip revealed a dining destination where both upscale and low-key places serve up memorable meals with comforting Southern flair.
After a late Friday-night arrival, my ideal Saturday morning in Atlanta meant sleeping in and brunching at the Flying Biscuit. The colorful diner now has three locations within the city limits, but the slightly cramped Candler Park original is still everyone's favorite (show up just about anytime and you'll encounter lines). The tables turn fast, though, and the all-day breakfast options are worth the wait. There are inspired omelets, tofu scrambles, and oatmeal pancakes; all come with a light-as-air yet extremely buttery biscuits. Look beyond breakfast to try such tasty house specialties as the Love Cakes, savory pancakes made from black beans and cornmeal and topped with tangy tomatillo salsa. And no worries—they still come with a biscuit.

The Flying Biscuit, 1655 McLendon Ave., Atlanta; 404-687-8888; flyingbiscuit.com.
Looking for a nice place for dinner, I came across lots of accolades for a seasonal, Southern-accented place called Restaurant Eugene. Better yet, chef Linton Hopkins (you may have seen him competing on Iron Chef) and his wife, Gina, have a Washington connection: The couple met when he was sous chef and she a server at the District's downtown power spot DC Coast. After the meal, I wished they had opened Eugene here instead of returning to Linton's hometown.
In an intimate, dimly lit space that's elegant but not stuffy, they serve everything from seared foie gras with roasted strawberries to greaseless fried chicken with sides of okra and silky puréed potatoes, served on a TV-dinner-style plate. The vegetable plate, usually a waste of an order in my opinion, is a stunner here: a skillet filled with local veggies—roasted peppers, baby eggplant, meltingly tender fingerling potatoes—and down-home favorites like creamy grits and buttery succotash.
Restaurant Eugene, 2277 Peachtree Rd., Atlanta; 404-355-0321; restauranteugene.com
Sweet Melissa's rivals the Flying Biscuit for my favorite breakfast spot in Atlanta. Actually, it's located just outside the city on a tree-lined street in Decatur, which reminds me of a smaller, sleepier version of Bethesda. The grits, oozing with cheese, are addictive, and the yogurt pancakes with house-made fruit butter are too good to limit yourself to a short stack. For something hearty, try the Hopple-Popple, an everything-but-the-kitchen-sink scramble of eggs, homefries, onion, salami, and pepperoni.
Sweet Melissa's, 127 East Court Sq., Decatur; 404-370-1111; sweetmelissas.com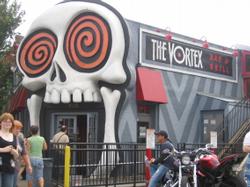 In the funky Little Five Points neighborhood, where colorful organic-food shops, vintage stores, and body-piercing parlors abound, the flagship location of the Vortex Bar and Grill stands out—and not just because of the huge, gaping skull that serves as the entryway. The place is packed thanks to its more than 20 varieties of burgers, from the Cowboy, topped with ham, jack cheese, and barbecue sauce, to the Choker, smeared with artichoke spread. You can even substitute the thick sirloin patty for one made of turkey, veggies, bison, or ostrich.
Vortex Bar and Grill, 438 Moreland Ave., Atlanta; 404-688-1828; thevortexbarandgrill.com