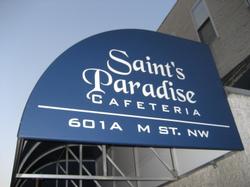 The reusable plastic trays, cameo appearances of meatloaf, and aproned women scooping up sides all suggest a high-volume school cafeteria. But in at least one regard, the lunch and dinner menu at Saints Paradise Cafe, next door to the United House of Prayer's world headquarters, is seasonal.
"Got any chit-ter-lings?" I asked one afternoon not long ago, for some reason stressing each syllable of that soul-food classic.
A tired-eyed woman, who'd been working since the breakfast shift started at 7 AM, shot me a baffled look. "You mean chitlins, chil'? Those are a winter food. Don't got those right now."Her Styrofoam container was waiting for my pick, and a crowd of Mount Vernon-area regulars exhaled impatiently behind me. They're not accustomed to first-timers around here; diners typically know the drill. Construction workers, mothers, students, and locals all pile in on weekdays for the $4 breakfast combo. It includes bacon, sausage or scrapple, two eggs, and two sides (fried potatoes or grits and apple sauce or baked apple). For another buck, you can get more adventurous with a choice of meat: salmon cake, corned-beef hash, ham, or pork chop.
"How 'bout the Blue Plate Special?" she finally suggested as I let a stream of customers pointing to the greasy turkey wings pass by me. The special rotates nightly—on Thursdays, families pile in for spaghetti; Sunday means gravy-sopping Salisbury steak. For only $6.99, the deal includes Southern sweet tea and two sides: elbow macaroni (clumped together, thanks to all that melted cheddar), potato salad (typically gone by mid-afternoon), candied yams (taste more like root veggies than candy), or greens. The mashed potatoes are from a box, the counterwoman admitted, looking slightly embarrassed. "But everything else is homemade."
At Saints Paradise Cafe, the atmosphere promises fellowship, and that's as much reason to come as the food. Maybe more so. Meals can be quick and utilitarian or full of lingering, with lots of talk of the latest sermon. Signs near the register remind crowds that with a frequent-diner card, every fifth breakfast and eleventh dinner are free. Just ask the cashier for a card—she's used to pulling out the happy-face stamp to mark each meal.
When it's time to go, leave your trays on the table—they'll take care of it. It's all part of the "love is our main ingredient" mantra. And if for some reason the neck bones, liver-and-onions, pig's feet, or turkey wings aren't filling enough, you can always head next door to the gold dome. That's the United House of Prayer. It's got plenty of fulfillment to offer.

Saint's Paradise Cafe, 601A M St., NW; 202-789-2289. Check out the full menu here.