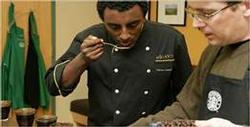 Seattle-based Starbucks hasn't yet set up its green umbrellas on the streets of Stockholm or Gothenburg—but it has managed to befriend Swedish celebrity chef Marcus Samuelsson. The coffee giant has collaborated with Samuelsson, chef at New York's Aquavit and Riingo, to create pastries that complement two new java blends. Samuelsson's creations—chocolate-cinnamon bread and apple coffeecake—are already being sold in stores. You can catch him in person Saturday, September 15, at the Starbucks Coffee Festival in Reston Town Center.
Starbucks and Samuelsson are in some ways a natural fit. Both are international presences: Starbucks has an expanding global influence, while the chef has a cosmopolitan background that spans many countries. Born in Ethiopia, he was orphaned at age three when his parents were killed in a tuberculosis epidemic. He was taken to a Swedish field hospital and adopted by a couple from southwest Sweden. Now he runs two restaurants in New York—one Scandinavian, one Japanese—and will soon open another, focusing on African cuisine.
Last year, Samuelsson published The Soul of a New Cuisine, a cookbook exploring the foods of Africa. A special repackaging of that book, called Discovery of a Continent: Flavors and Inspirations From Africa, will be available at the coffee festival, with proceeds going to the US Fund for UNICEF. At 1:30 PM, Samuelsson will hold a ticketed tasting of his new recipes. At 2:30, he'll sign books. His events are sandwiched between two musical performances. Fools & Horses, a rock band from Baltimore, hits the stage at 11; Ozumatli, a nine-piece Latin hip-hop and rock band from Los Angeles, goes on at 3. Admission to the festival, including coffee-and-food pairings, is free.

The Starbucks Coffee Festival is at Reston Town Center, 11900 Market St., Reston, from 11 to 5 Saturday, September 15. Click here for more information.