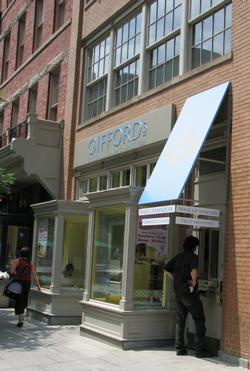 The Food: Ice cream rules this sweet shop. Inventive varieties include flavors of the month (think Cherry Blossom in the spring) and Champagne sorbet, and there are classic tastes like black raspberry and cookie dough. Shakes, floats, sundaes, cakes, chocolates and warm drinks round out the menu. The decadent, freshly made hot fudge and caramel sauces are available to go, as are gifts mugs full of homemade candies.

The Scene: Though Gifford's has switched ownership and buildings a few times, the recipes and signature items have stayed the same. For the hurried crowd, a walk-up window means customers never have to leave the street to get their treats. Inside the store, decked out in trademark yellow and blue, tables line the wall opposite the long serving counter. Check the hanging menus for flavors, sundaes, shakes, and drinks.
What's Nearby: In the heart of Penn Quarter, Gifford's is near the Metro Center (red, orange and blue lines) and Gallery Place/Chinatown (red, green and yellow lines) Metro stations. Next door is the Washington Welcome Center on the corner of 10th and E streets. The Hard Rock Cafe, ESPN Zone, Landmark E Street Cinema, and Warner, National and Ford's theaters are all within walking distance. Also close by: the International Spy Museum, Reynolds Center (National Portrait Gallery and American Art Museum), Verizon Center, and the National Mall.
Insider Tips: The ice cream shop originated in Silver Spring in 1938. Other locations are in Bethesda and Chevy Chase. Many of the homemade butterscotches, chocolates, and caramels are still made from the original 1930's recipes.