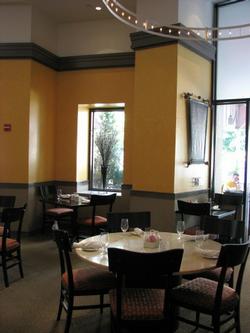 The Food: Italian-accented classics are the focus at this bustling dining room. Though scattered amid standards like Caprese salad, Tuscan white bean soup, and pappardelle Bolognese are surprises like crab-and-mango salad and a brick oven pizza topped with asparagus and goat cheese. Cheese and charcuterie boards, good for post-work grazing, change often.
The Scene: Aria is located in the sprawling Ronald Reagan Building, and its tables spill onto the Woodrow Wilson Plaza. Outside, you can dine on a covered patio, in an enclosed piazza, or on tables interspersed with saplings for a bit of shade. Indoors, high ceilings and yellow walls are accented by black wood tables and simple chandeliers that hover like halos. The location is friendly to both Federal Triangle and downtown workers, as well as tourists who wander off the mall.
What's Nearby: Aria is steps from the Federal Triangle metro stop (blue and orange lines), and plenty of government buildings and tourist attractions–walk through the Woodrow Wilson Plaza to get to the National Mall and the Smithsonian museums. Head onto Pennsylvania Avenue to reach the Warner and National theaters (each is a block away), and the White House.
Insider Tips: Monday through Friday between 4 and 6 PM, 16-inch pizzas are half-price at the inside and outside bars. A three-course pre-theater menu is available on weekends (Friday between 4 and 7 PM; Saturday between 5 and 7) for $29.