The Food: Owner Teresa Velazquez turns out delicious, unpretentious sweets baked from family recipes: Coconut-dusted cupcakes, zucchini bread, cherry pie, and addictive "doughnut" muffins rolled in sugar. Hand-picked Arabica beans are used for the coffee which has a smooth, murky appeal (they also serve hot and cold espresso drinks). Iced and hot teas include green, white, black, oolong and pu-ehr varieties, plus a few island-inspired flavors like the Fiji (papaya, wild pineapple, and green tea).

The Scene: A drool-worthy counter of goodies is the main attraction in this narrow space that shares an address with Zap Graphics, the Velazquez's printing business. But there's room to relax in the small Wi-Fi lounge area, which has a communal table. In the morning, B&W is a popular fuel-up spot for early-risers and office workers.
What's Nearby: Adjacent to the C&O Canal Towpath, Baked and Wired sits between the K Street waterfront and the shops and restaurants of M Street. It's just down the street from the Georgetown Barnes & Noble, a short distance from the multiplex movie theater, and an easy walk from the Four Seasons, Latham, and Ritz-Carlton hotels.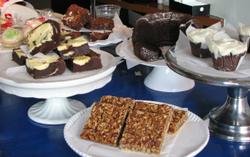 Insider Tips: Baked and Wired is currently closed on weekends, but plans to add weekend hours soon.
While they're known for indulgent baked goods, the lunchtime specials (usually a few salads, wraps, and quiches) are made with fresh, high-quality ingredients.
In the mood for one of their famous cupcakes? Get there on the early side. The popular treats tend to sell out by the afternoon.