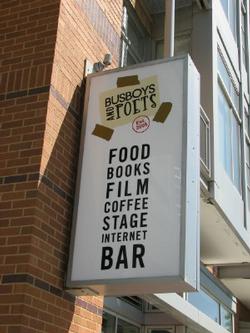 The Food: Pizzas, sandwiches, burgers, and entrees such as meatloaf and baked chicken make up the inexpensive, varied menu (most menu items are $12 or less). There are plenty of vegan and vegetarian choices, including tofu with jasmine rice, veggie lasagna, and a portobello-goat-cheese sandwich.
The Scene: Andy Shallal's sprawling Shaw gathering spot seeks to be many things: a casual neighborhood restaurant, laidback coffeehouse and bar, socially conscious bookstore and performance space, and (free) wi-fi hangout. It's as if the typical '90s coffeehouse grew up and got a liberal arts education. During the day, the mismatched couches and oversized kitchen tables in the Poets Cafe are filled with students and workers tapping away on laptops (there are plenty of outlets to plug into). At night, the relaxed Busboys Lounge is the place to laze. A separate space known as the Langston Room, which has ample seating and a stage and screen, serves as a meeting, performance, and private event space.
What's Nearby: A block from U Street, Busboys is close to the Metro (U Street station, green and yellow lines), the African American Civil War Memorial Museum, and the historic Lincoln Theatre. Bars such as Local 16, the Saloon, Bohemian Caverns, and Stetson's are a short walk away, as are plenty of boutiques and restaurants.
Insider Tips: Despite the amount of space, regulars say seats are often hard to come by. Arrive early for a coveted couch spot.