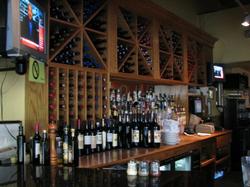 The Food: Pizza comes in four sizes, which range from six to 12 slices. There are plenty of specialty combinations, such as the Grecco (grilled chicken and feta) and the Franco (sausage, roasted red pepper, and red onion), or you can design your own pie from a long list of toppings, including toasted pine nuts, Virginia ham, grilled eggplant, and basil pesto. Pastas (gnocchi, agnolotti, fettucini) are available after 5 PM on weekdays and after 1 PM on weekends. Other choices include grinders, cheesesteaks, and entree-sized salads.
The Scene: In this pedestrian-friendly 'burb, Faccia Luna is a neighborhood pizza shop with an urban twist. The orange walls are done up with sleek black-and-white Man Ray prints. A black granite-topped bar prominently displays wine, but also offers American microbrews on tap and a full range of liquor. When the weather's nice, the sidewalk tables are the most coveted.
What's Nearby: The Clarendon Metro station (orange line) is about two blocks away. Nearby are bars and clubs (Whitlow's on Wilson, Iota), more dining options, Whole Foods, and shops­ ranging from major chains (Crate & Barrel, Apple, Williams-Sonoma) to boutiques (All About Jane, South Moon Under).
Insider Tips: On Mondays after 5 PM, a $22.22 deal includes a 12-inch pizza with two toppings, two house salads and two glasses of wine. After 6 PM, you can find parking in a lot behind the restaurant.