The Food: Meals begin with a basket of biscuits and cornbread with addictive honey-peach butter. But before you carb-load, know that portions here are huge and heavy. The focus of the menu is barbecue, ranging from Texas-style smoked brisket to St. Louis ribs to Carolina pulled pork. Choose from among five different sauces—inspired by Eastern Carolina, Lexington, Savannah, Kansas City and Southwest Texas—to top them off. Other Southern specialties include cornmeal-dusted catfish, buttermilk-brined fried chicken, and bourbon-and-molasses steak. You'll find all the expected sides—cole slaw, collards, mac and cheese, potato salad—plus fried okra, succotash, and sweet potato fries.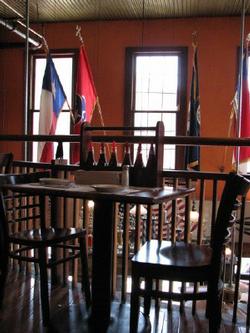 The Scene: A favorite of Georgetown University students and Southern transplants, the rowdy, wood-paneled Old Glory has the 'cue joint theme down pat. White paper on the tables are an invitation to get lost in sauce. A large porcelain sink prominently placed in the restaurant is available for quick cleanup. The bar stools are shaped like saddles, the cocktails are served in mason jars, and there's a bourbon drinkers club (try all 80 varieties, and you'll get your name etched on a plaque behind the bar). Upstairs, there's more seating and a rooftop deck and bar.
What's Nearby: Near Georgetown's main intersection of Wisconsin Avenue and M Street, Old Glory is surrounded by boutiques, chain clothing stores, restaurants, and college-crowd bars (Garrett's, Mr. Smith's, The Guards). Next door, there's a Ben & Jerry's ice cream shop. The historic C&O Canal and towpath is a block away, and just beyond that is a multiplex movie theater and Georgetown's waterfront promenade.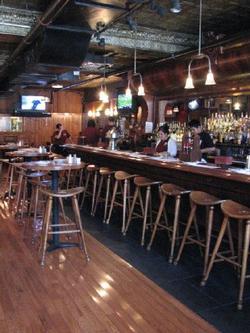 Insider Tips: Love the barbecue sauces? The five flavors on table are for sale at the restaurant and online.
A late-night menu, served from midnight to 1:00 AM, offers burgers, nachos, and pulled pork sandwiches.