Forget cooking light—at Brasserie Beck, Robert Wiedmaier emphasizes his Belgian roots with robust flavors, he-man servings, and a lineup of beers that would rival most wine lists.
A few years ago, a young competitor took a shot at chef Robert Wiedmaier in an online food forum, characterizing his robust cuisine as "Flemish redneck."
Wiedmaier—who is half Belgian, grew up in Germany, and apprenticed in the Michelin-starred restaurant Eddie Van Maele in Brussels—has always been more workman than aesthete. Listen to his raspy voice and you might think he had a past life as a defensive coordinator in the NFL. Watch him tooling around on his Harley and you'd hardly guess he presides over one of Washington's most expensive restaurants. At the bar after hours, he conveys the back-slapping bonhomie of a guy who would just as soon ditch his chef's whites for jeans and a cold Bud.
Marcel's, his restaurant in DC's West End neighborhood, styles itself as the torch bearer for a vanishing Old World refinement. But despite the exorbitant prices and formal service, it's one of the least precious, least pretentious restaurants in town.
The kitchen trades on its elegantly concentrated sauces and intricate dishes, but Wiedmaier is a big guy, and he plates to please other big guys, with the result that some diners are mystified by buffet-size portions in a white-tablecloth setting. The boudin blanc goes down like a mousse, but the two links are so fat they would look at home in a beer-and-brats hall.
If this qualifies as redneck, Washington could do with a little more redneck.
Wiedmaier must have been thinking the same thing. His more casual spinoff in downtown DC, Brasserie Beck, is a boisterous repudiation of the prevailing ethos of many chefs—that seasonal cooking is all, that lighter is better, that "portion control" is a moral act. It's also a pointed reminder that traditional Belgian cooking, with its hearty, bacony stews, its beer-spiked sauces, and its pile-it-on tendencies, has always been more redneck than refined—proudly, defiantly so.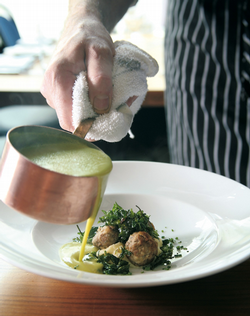 The only thing "new" about Brasserie Beck is the fact that it just opened. The look is fresh and bright, with vaulted ceilings, a glittering bar, a kitchen in the center of the dining room, and high windows and tilted mirrors that bring the city inside. The early crowds convey the excitement of a restaurant that has caught the mood of the moment.
But when you get right down to it, the place is about as contemporary as a Robert Musil novel. At a recent meal, I found myself calling it quits on a dish of roasted rabbit. Not because it wasn't good. The succulent, faintly gamy meat was accentuated by a thin but intense sauce made from the rabbit's natural cooking juices, to which kriek (cherry) beer had been added for sweetening; this same sauce also glazed the side of thick-carved root vegetables. It was the kind of confident, no-frills cooking that bistros are beloved for, soulful without stinting on finesse—exactly the thing I find myself pining for in the winter.
Only it was late summer, and my shirt was sticking to my chest.
The coq au vin inspired a similar thought: Who cooks like this anymore? And in summer, no less.
But perhaps the Flemish redneck and his compatriot in the kitchen, chef David Ashwell, are on to something, because my primal self couldn't resist ordering the coq au vin, even if summer is supposed to be a time of fishes and salads. What emerged from the kitchen was properly sharp and winey, brimming with bacony savor, and so warming that I felt I'd been primed to head off for the hunt.
Here's what else I ate during my first two visits: a lush steak tartare, the minced, seasoned meat coated in so much house-made mayonnaise that texturally it resembled a chicken salad; a plate of garlicky baguettes surmounted by a poached egg and wallowing in a mushroom fricassee perfumed with tarragon; a pile of diced ham suspended in an eggy, baked custard—nominally a quiche Lorraine, but more Lorraine than quiche; a fan of seared duck breast in a raisin-and-almond Congolese sauce that neatly split the difference between sweet and savory; a satiny pea soup, its intensely hammy back-taste amplified by a trio of luscious veal-cheek meatballs; a terrific hand-ground lamb sausage with lentils; a gratin topped with braised pork belly; a duck confit with whipped potatoes; and a mound of perfectly crisped fries with three kinds of house-made mayo.
Amid all this excess, the brandade—made from fresh cod and drizzled with olive oil—and the shrimp croquettes, which resembled Mrs. Paul's but were crunchier, ended up looking like dieters' plates.
Food this rich calls for wine, lots of it. The list is good, but the excitement here is about the beers, which are not exactly known for cleansing the palate. Wiedmaier has put together one of the largest selections of Belgian beers outside of Belgium. He's even created the position of beer sommelier, and the waiter will tilt a bottle for your inspection before opening it. The range is astonishing. No two brews I drank were remotely similar, and the possibility for food pairings seems endless—a dark, syrupy St. Bernardus stands up to the intensity of many of the braises and reductions, while any of the witte beers makes a good foil for the quiche and fries.
If you're wondering whether it's possible to eat light at Beck, the answer is—it depends.
One way is to load up on the oysters. Look to the sweet, creamy varieties from the West Coast, including the exceptional Stellar Bays. They're brought to the table on an ice-mounded Delirium Tremens tray bearing that beer brand's familiar pink elephants. They come with small bowls of mignonette and cocktail sauces, but why bother with adornments when the kitchen goes to great lengths to preserve the oysters' milky-rich, briny liquor?
The salads are lighter, but only because they're salads. On their merits, they're more manly than girly. Beet carpaccio is one of those dishes that often gratify chefs more than they do customers, a display that aims for prettiness and occasionally achieves deliciousness. The beets at Beck, though shaved to a razor thinness, resemble slices of bologna, big and round. Most kitchens would be content to send out the plate with just the artfully arranged beets; here the pretty composition is obscured by a hefty pile of Bibb lettuce slicked with a Ghent mustard dressing.
The question isn't whether it's possible to eat lightly at Beck but why you would want to.
There are misses among the heavier courses—the grilled steak, though rosy and well salted, was oddly tough and in want of a proper crust—but the lighter fare too often feels obligatory, as though it's only on the menu for diners unable to meet the challenges of game. The monkfish was perfectly cooked but merely pleasant, even with its pungent sauce of roasted peppers and olives, and the skate wing was tender within but also without; lacking the outer layer of crunch, it had no textural contrast—a soft, moist accordion of fish.
The bigger disappointment is the mussels. Served in shallow ceramic pots, presumably to facilitate bread-dunking, they're unexpectedly small and often firm.
Desserts, if you make it that far, are expectedly rich; they're also unexpectedly ordinary. I'd just as soon end my meal with a glass of the crisp, sweet Lindemans Pomme apple beer—you can smell the fruit even before you jam your nose in the glass.
Beer for dessert? I think the Flemish redneck would approve.