The Food: Ice cream rules this sweet shop. Inventive varieties include flavors of the month (think Cherry Blossom in the spring) and Champagne sorbet, and there are classic tastes like black raspberry and cookie dough. Shakes, floats, sundaes, cakes, chocolates and warm drinks round out the menu. The decadent, freshly made hot fudge and caramel sauces are available to go, as are gifts mugs full of homemade candies.
The Scene: Though Gifford's has switched ownership (and buildings) a few times, the recipes and signature items have stayed the same. The narrow store and ice cream counter, decorated in trademark baby blue and yellow, spills with neighborhood kids and teens. Lines form quickly, especially around prime movie times (it's right next to the Landmark Bethesda Row Theater).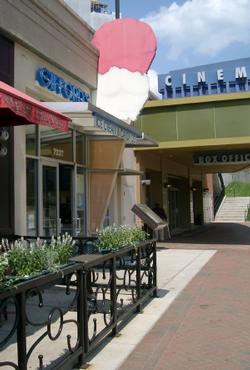 What's Nearby: Gifford's is in the heart of Bethesda's shopping and dining district near the corner of Woodmont and Bethesda avenues. It's next to the Bethesda Row Cinema box office, and across the street from Barnes & Noble. The Bethesda Station Metro (red line) is about four blocks away.
Insider Tips: The ice cream shop originated in Silver Spring in 1938 and added a Bethesda store on Wisconsin Avenue in 1940. Other locations include downtown at E & 10th streets, NW, and Chevy Chase at Wisconsin and Western avenues.
Many of the homemade butterscotches, chocolates, and caramels are still made from the original 1930's recipes.