The Food: Agraria comes from a Latin word meaning "field," and family farmers are the focus at this Georgetown restaurant started by the North Dakota Farmers Union. After a few early chef and management changes, the dining room's menu is now overseen by chef Ricky Moore. Dishes are conceived around ingredients from farms near (Amish-raised chicken and organic fruit come from Pennsylvania) and far (beef and coffee are shipped from the Dakotas). As you'd expect, Moore gets creative with vegetables. Starters include a soup of stinging nettles with morels and chive blossoms; asparagus salad with mimosa vinaigrette; and a beet salad with pickled raisins. Larger plates include hay-cured chicken with warm potato salad; softshell crabs with heirloom tomato salad; and whole roasted red snapper with arugula. The kitchen's devotion to seasonality means that the menu changes often.
The Scene: Design team Adamstein and Demitriou have kept the restaurant's agricultural roots in mind, dressing up the earth-toned dining room with grassy green upholstry, a stone fireplace, and aerial photos of Midwestern farms. At the long granite bar, you'll find creative cocktails such as the Cocktail al Souk, made with fig vodka and mint bitters, and the Cynthia, a mix of housemade citrus vodka, Lillet, and tarragon simple syrup. The main dining room looks onto an open kitchen, and there's a separate corridor of private dining areas. Sidewalk tables look onto a picturesque fountain.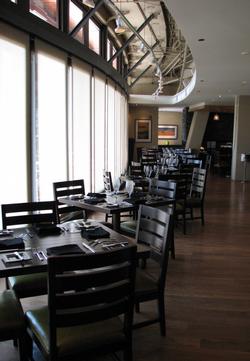 What's Nearby: Agraria is in Washington Harbour (also known as the Georgetown waterfront), which is a scattering of restaurants, condos, and office spaces overlooking the Potomac River. A multiplex movie theater is just over a block away on K Street, and the shopping, dining, and nightlife of M Street is two blocks away.
Insider Tips: Agraria's happy hour is scheduled later than most: On weekdays between 7 and 9 PM, specialty cocktails are half price ($6) and selected beers are $3.