What: Reception honoring Prince Albert II of Monaco and opening the new ambassador's residence.
Where: The impressive, newly renovated Monaco ambassador's residence in Kalorama, including a grand piano in the main parlor and a Weber grill under wraps in the backyard.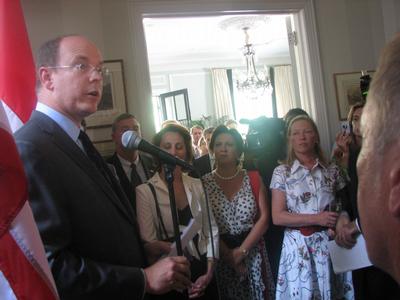 Who: Ambassador Gilles Noghes and his wife, Ellen, Monaco officials and consuls, State Department and administration officials, and royal family and friends, as well as impersonators of Buffalo Bill Cody, who led the Prince's great-grandfather on a bear hunt in Cody, Wyoming, in 1913, and Ben Franklin, the first ambassador to France.
Food: Impressive and plentiful snacks—aged prosciutto, endive and chevre with figs, asparagus risotto, tiny tarts and other desserts.
Drink: Champagne!
Scene: French was the language of the day, as guests mingled with the unassuming prince, who heads a principality roughly the size of New York's Central Park and wandered through the first floor greeting familiar faces. Prince Albert spent many years in the US, attending summer camp in New Hampshire and graduating from Amherst College, and he got choked up as he recalled his family's ties to the states and his pride at installing Monaco's first full-fledged ambassador in Washington last December. "Every time I spend in this country brings back these fond memories," he told the crowd during his brief remarks.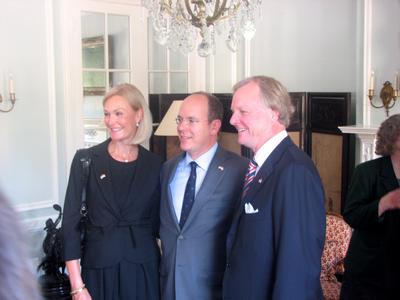 On side tables in the residence's parlor were photos of the Prince's mother, Grace Kelly, and a book about her. On the piano was a photo of one of the Prince's oddest accomplishments—he's the only head of state to reach the North Pole. A large collection of Princess Grace's memorabilia will be on display in New York from October 15th to the 26th at Sotheby's.
During a brief meeting with the press after the reception in the ambassador's upstairs cigar room, Roxanne Roberts of the Washington Post pressed the Prince, who remains at 49 one of the world's most eligible bachelors, on whether he would marry someday. "It might happen," he assented.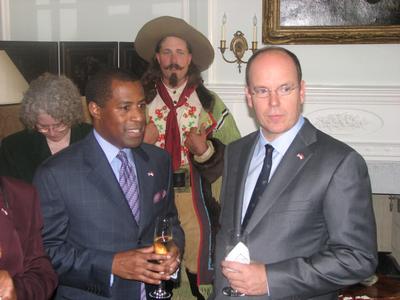 Ratings (out of 5):
Boldface names: 4
Swankiness: 4
Food/drink: 3.5
Exclusivity: 4
Total score: 15.5 (out of 20)