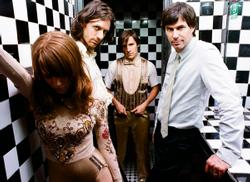 What do child stars do when they give up acting? Make a band, of course.
Former child actors Jenny Lewis and Blake Sennett did this just that, and their group, Rilo Kiley, rocked the 9:30 Club last night—the second of two gigs at the venue this week. Lewis, whose film credits include Pleasantville and Foxfire, brought out her classic bluegrass-meets-Billie Holiday vocals in full force, while Sennett, who played childhood bullies in the TV series Boy Meets World and Salute Your Shorts, proved to be a surprisingly versatile guitarist, playing electric and acoustic guitars and a ukulele with equal skill.
With two EPs and four full-length albums under its belt, the band had plenty of material to work with. The sold-out concert, which opened with "It's a Hit," the first track from the band's 2004 album, featured a solid mix of old and new tunes. Audience favorites included "The Moneymaker," Rilo Kiley's first single from its latest album, Under the Blacklight, and "With Arms Outstretched," a tried-and-true oldie that the crowd belted a cappella with Lewis and her bandmates.For much of the show, the four-person band was six strong, making backup singers out of Kristin Gundred (from opening band Grande Ole Party) and Orenda Fink (from the other opener, Art in Manila). Gundred's soothing alto and Fink's electric soprano blended perfectly with Lewis's strong lead vocals. Fink and Gundred also chimed in on rhythm guitar and percussion, respectively, giving Rilo Kiley a fuller and more well-rounded sound. Even with the new additions, the band managed to keep its tunes tight.
But for some longtime fans and purist indie-rock types, Rilo Kiley had to do more than just put on a solid show: It also had something to prove. The August release of Blacklight, the band's second album on the Warner Bros. label, solidified Kiley's split from its more classic indie sound and debuted a much more radio-friendly lineup that met with mixed reviews from fans. Though major music publications like Rolling Stone rated it highly, the blogosphere wasn't nearly as forgiving, with many fans describing the album as largely disappointing.
So how did Kiley fare among Washington concert-goers last night? Judging by the stretch of deafening applause that preceded a two-song encore, it's safe to say the band didn't disappoint.