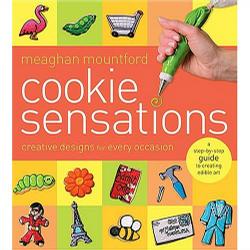 Bethesda bakery Bundles of Cookies has been turning out snazzy-looking occasion cookies–rubber duckies with yellow icing for baby showers, little black dress and Elvis cookies for theme birthdays, and Eiffel Tower and palm tree cookies for bon voyage 'dos–for years. Decorated with swirls and squiggles of royal icing, they actually taste as good as they look.
But as anyone who's tried to buy a few dozen for a soiree knows, specialty cookies can be pricey. For budget-minded Martha-wannabes, Bundles head decorator Meaghan Mountford has published Cookie Sensations (Rutledge Hill Press, $19.99).
Besides recipes for cookies (almond, butter, chocolate, and chocolate mint) and icing (her version of royal icing is tender, spiked with vanilla, and actually edible) the book is full of how-to pictures and templates for cookie designs, along with gorgeous photos of finished cookies for inspiration.
Mountford also regales with morsels from the annals of cookie history: i.e., that the earliest ceramic cookie molds date back to 2000 BC in ancient Egypt and Mesopotamia. But most of her tips are of a more practical bent: How to create icing colors, come up with color combos that work, and use edible glitter. She provides sources for cookie cutters and supplies, and also suggests creative ways to use decorated cookies — as edible placecards, as cake decorations, and as a way to jazz up a gift certificate (make a nail polish bottle cookie for a spa certificate, a movie ticket cookie for movie passes).
She cautions that it usually takes a few dry runs on paper templates before you're ready to go live on real cookie dough. And though the finished work may seem too beautiful to eat, Mountford calls cookie decorating a "transient art"– a work to be "consumed but not forgotten."
Bundles of Cookies, 4930 Hampden Ln., Bethesda; 301-652-8840; Bundlesofcookies.com.