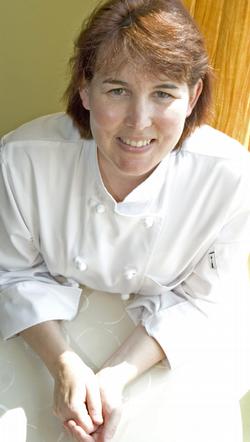 Pastry chef Lisa Scruggs is in the business of satisfying other people's cravings. Like um, mine. I almost missed a doctor's appointment detouring to Buzz, her newly opened Slaters Lane bakery and coffee shop, for a custard-filled cupcake and a bacon-egg-and-cheese brioche.

So what does Scruggs crave? Come winter, the answer is the tarte au sucre (brown sugar pie) her Canadian father makes every Christmas. It's an incredibly easy pie to make (like Rachael Ray-easy), but it tastes really special. The thin slices are best served warm with plain heavy cream or vanilla ice cream.
Brown Sugar Pie
Makes one 8-inch pie.
1 cup firmly packed brown sugar
1 egg, slightly beaten
1 teaspoon vanilla
2 heaping tablespoons flour
3 tablespoons milk
2 tablespoons melted butter
1 disk pie dough (half the recipe below)
1 8-inch tart pan
Heavy cream or vanilla ice cream (optional)

Preheat the oven to 350 degrees. Combine all the ingredients (except the pie dough and ice cream or heavy cream) in the bowl of a stand mixer, and mix on medium speed for two minutes. Roll out the pie dough, press it into the tart pan, and trim off any excess dough around the edges. Pour the brown sugar mixture into the pie shell and bake for 35 minutes, or until the crust is lightly browned and the filling has set. Remove from the oven and let cool. Slice and serve with heavy cream or ice cream.

Pie Crust Dough
Makes enough dough for two 8-inch pies.
1 1/4 cups flour
1 1/2 teaspoons sugar
4 ounces of cold butter, cubed
1/4 teaspoon salt
1/4 cup ice water
Put all the ingredients except for the water in the bowl of a stand mixer. Blend until the butter is incorporated. When the dough just begins to come together, keep the mixer running and quickly pour in the ice water. Mix until the dough is blended. Divide the dough into two balls, flatten them into disks, and wrap them in wax paper and plastic wrap. Refrigerate overnight.
Buzz Bakery and Coffee Lounge (901 Slaters Ln., Alexandria; 703-600-2899; buzzonslaters.com). Open daily 6 AM to midnight.