Some homeowners wouldn't change a thing about their kitchens. Every pot and pan has its place; each appliance works like a dream. The layout speeds prep work and cleanup, and the whole room looks as though it belongs in a magazine.
And did they mention that the renovation was a snap?
Then there are people like Christina Tellalian. Her regret was a big one: trusting a contractor because, after seeing the company's vans around town, she assumed it was a reliable Washington institution.
One of the workers showed up drunk to work on her Georgetown condo, another applied stain instead of sealant to her granite, and the company failed to meet DC building codes—meaning she had to rip out her microwave because it was too close to the stove.
Most homeowners' kitchen renovations fall somewhere between a dream and a nightmare. A new kitchen requires hundreds of decisions. Even homeowners who get the most out of them can still wind up with a few regrets.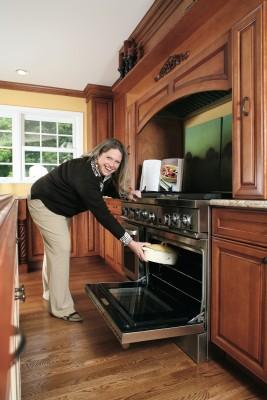 Warming Issues
Sarah and Scott Schermerhorn finished renovating their McLean kitchen last October. Sarah developed buyer's remorse a month later while preparing a Thanksgiving feast for 30 relatives.
Things were going smoothly until she tried to use the second oven on her Jenn-Air range. It looks reasonably spacious, but the rack holders stick out far enough that only her smallest dishes can fit inside. She wished she had brought a pot or pan with her when shopping for the range.
Schermerhorn, who loves the rest of her kitchen, wonders how she'll handle future holidays: "I'm not sure if I want to lose cabinet space, but I've been looking at my walls, thinking I can put another oven in there somewhere."
Richard Forbes, owner of Absolute Kitchens in McLean, hears from home­owners who wish they had installed a warming drawer, which occupies less space than a second oven and can be used to preheat plates or to keep takeout from getting cold. "We see people using them so much more," he says.
Underestimating the amount of ventilation needed for a commercial-style stove is another source of regret, says Karl Keul of Cameo Kitchens in Falls Church. Downdraft systems, typically used with island cooktops, are especially problematic. Even with extra power, they only sometimes work as well as traditional hoods, which pull hot air where it naturally wants to go—up. Keul says downdraft ventilation systems should draw a minimum of 1,000 cubic feet a minute and have a remote blower mounted on the outside of the house to reduce noise.
Light Source
Christopher Lively, who lives in DC's Glover Park neighborhood, ended up with unwanted heat in his kitchen from the lighting. Addicted to home-renovation shows, Lively devised his lighting strategy when renovating two years ago. He incorporated task lighting, recessed cans, and a drop fixture.
But he found a drawback to all that wattage: With the lights on, the kitchen is warmer than other rooms. Instead of incandescent bulbs, Lively wishes he had used low-voltage halogen lights, which give off less heat and have a truer color.
Low-voltage halogen would be a good choice, says Susan Pierce of Commonwealth Home Remodelers in Vienna, but she also recommends xenon lighting, which gives off so little heat that the bulb never gets too hot to hold. Xenon works especially well in under-cabinet fixtures, where hotter bulbs can melt baking supplies or dry out spices.
Incorporating as much natural light as possible is important, says Anthony Wilder of Anthony Wilder Design/Build in Cabin John. The most important window in the house, he says, is the one above the kitchen sink.
Wilder warns that homeowners who haven't had enough storage space in their old kitchens are often inclined to go overboard with cabinets, even at the expense of windows. The result is more like a library than an inviting, livable space.
Size Matters
Sue Kopperman receives endless compliments on the natural light that floods her kitchen in Olney. "Everybody loves this kitchen," she says, adding that people often visit as they plan their own renovations.
But Kopperman regrets allowing herself to be talked out of the refrigerator she really wanted. She'd had a large SubZero with a freezer on the bottom at her original house in Bethesda and had loved it.
When redoing her small Olney kitchen in 2003, the kitchen pros at a big-box home store persuaded her to buy a side-by-side refrigerator/freezer. Their argument: The smaller doors on the side-by-side unit would give better clearance, so someone could walk behind her when the refrigerator is open and the refrigerator and the dishwasher directly opposite could be open at the same time.
But Kopperman, who entertains often, discovered that her new refrigerator was too narrow to fit even a standard baking sheet, let alone the party trays she'd been able to store in her old SubZero.
And how often does she open the dishwasher and refrigerator at the same time or have to let someone pass while gazing into the fridge? "It never happens," Kopperman says.
Kitchen experts say side-by-side refrigerator/freezers can work well but usually only in larger sizes: 42 inches or wider. Since finishing her kitchen, Kopperman has seen units that have a freezer drawer on the bottom and two doors on top that open to a full-size refrigerator. That, she says, would have been the best solution for her.
Drawer dishwashers have a similar problem. They look nice but provide less usable space and won't accommodate tall pots or other large items. A better choice: conventional dishwashers that give you the option to run a cycle for just one rack at a time.
Realistic Expectations
"We didn't really think about how we actually use the kitchen," says Matt Kaiser of a renovation he and his wife, Bridgette, did in Silver Spring three years ago.
Busy lawyers with two young children, the Kaisers admit to not always cleaning up before collapsing in bed at night. Scrimping on the size of their sink meant their dirty dishes had no place to hide.
The family moved to a Takoma Park house this year and again renovated the kitchen. This time they opted for a large double sink. "It can basically hold a dinner's worth of dishes," Matt says. "It's a world of difference."
A word of caution: Deep sinks can strain your back when you're washing dishes. "If you're going to go with a sink that's any deeper than seven inches, buy a bottom grid that will bring the bottom up," says Jennifer Gilmer of Bethesda's Jennifer Gilmer Kitchen & Bath.
Thinking realistically about what you'll do—or not do—in the kitchen is crucial, says Lois Kennedy, owner of Portfolio Kitchens in Vienna. "Most people approach the kitchen from a cooking point of view," she says. "But I think the more important function for a busy family is 'How do we get out of the door in the morning?' "
Kennedy recommends including a nook where the microwave, toaster, and coffeepot can reside. It should be close to the refrigerator and not too far from the sink. She also says many new kitchens are so large that they're impractical: "The room loses good function because things are too spread out, and you can't get the right kind of workflow."
Unless they're serious cooks, busy families may want to avoid industrial-style ranges, which can be hard to clean. Glass cooktops aren't as good for preparing five-star meals, but they're easy to wipe down.
Countertop maintenance is another consideration: Marble, limestone, and soapstone are softer and more porous than granite, which means they'll stain and scratch more easily. Whether that's a problem depends on the home­owners. Some are almost surgical in their cleanliness, while others like the appearance of a well-used kitchen.
Looking Ahead
Paula Dyer was thinking in the short term when she gave her Rockville kitchen a facelift in 2002. Her 1970s home needed lots of work, and because she didn't cook much, she decided to save money in the kitchen.
Instead of a complete renovation, she bought one new appliance, replaced her cabinet hardware, installed two glass fronts, and added a granite countertop. The total cost was around $4,000.
As the work on the rest of her home progressed, Dyer decided that updating her kitchen had been a waste. She wanted the house to be more open, so she started planning to take down walls and move doors. In the middle of everything was her small, closed-off kitchen.
"The last thing I wanted to do was design around a kitchen I wasn't that crazy about in the first place," she says. Just two years after the facelift, she hired Kitchen Planners in Rockville to tear out her kitchen and redesign it. "I still have those granite slabs piled in my yard," Dyer says. "It's annoying every time I pass them."
Other designers say they've seen home­owners put high-end counters on top of cheap cabinets or buy expensive new doors for worn-out cabinets. "Then they realize they still don't have drawers that work nicely," says Dee David, a Falls Church designer. She says it makes more sense to invest in cabinets that will last a long time, even if that means living with an inexpensive countertop until you can afford to upgrade.
Another mistake is to choose trendy styles for the bigger-ticket items—cabinets, countertops, expensive appliances—that appear dated after five or ten years. While a great designer may be able to pull together a daring look that will last, it's safer to use understated materials for elements that are hard to replace. You can then spice up the room with paint, furniture, and accents.
Kitchen experts warn clients about appliances that are new to the market or have lots of bells and whistles. Even a feature as common as a water-and-ice dispenser on the refrigerator door can make the appliance more prone to breaking down. Says Dennis Day of Voell Custom Kitchens in Arlington: "You're going to be forming a relationship with the repairperson."
For Dyer, getting her kitchen just right was a good decision. It's now one of her favorite places in the house. She reads the paper there in the morning and has even started to cook. "I use it as a real living area," she says.