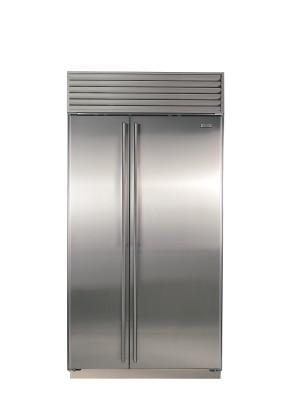 Cool and Clean
Due in May 2008, Sub-Zero's built-in refrigerators–which will come in a variety of door styles–"clean" the interior air every 20 minutes, removing odors, bacteria, viruses, and ethylene, the gas that makes fruits and vegetables ripen; thus, produce remains fresh longer. A water-filtration system removes bacteria and viruses in addition to chlorine and sediment from water and ice. These new models include better lighting, a new glide system for crisper and storage drawers, and a digital control panel. Price not determined; subzero.com.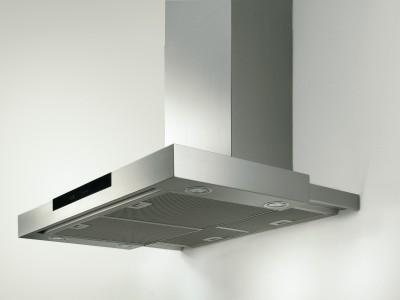 Trap That Smoke
A touch of a button extends this 36-inch-wide Thermador chimney-style drawer hood ($1,799; thermador.com) an extra foot forward, better preventing smoke from front burners from escaping into the kitchen. The hood has four power levels and halogen lighting to illuminate the cooking surface. An indicator light shows when the filter needs cleaning; just take it out and pop it into the dishwasher.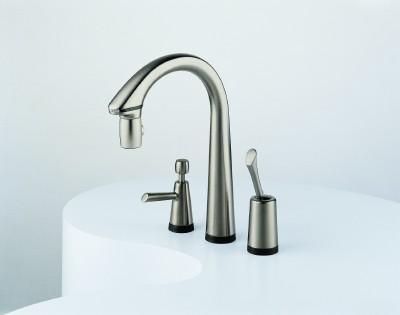 Look, No Hands
Put your hands or a pot under Brizo's hands-free Pascal pull-down faucet and the water flows; when nothing is there, it stops. You can override the automatic feature by tapping anywhere on the faucet, and you can change water flow and temperature using the one-hand control (at right). A button on the pull-down spray head switches the flow from spray to stream. In chrome with soap dispenser (pictured), $1,097; brizo.com.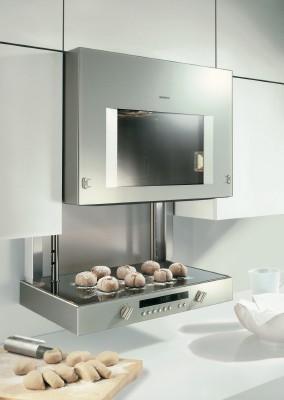 Oven on the Move
The 24-inch-wide Gaggenau lift oven ($3,339; gaggenau.com) makes it easy to put heavy pans in and remove hot dishes. Press a button and the oven's floor glides down to the countertop. This convection oven also has settings for defrosting, warming, reheating, proofing yeast, and heating pastry. You can set it to use a heating element in the top or the bottom or both, and you can bake pizza, rolls, and other items directly on the self-cleaning, glass-over-ceramic base.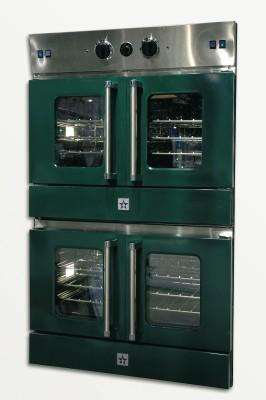 Pick a Color
Want a choice of colors for your oven? How about 190? These professional-quality gas convection wall ovens by BlueStar ($2,761 to $7,198; prizerpainter.com) come in three widths: The 24-inch has a swing door; the 30- and 36-inch have French doors (pictured). All come with either single or, as shown here, double ovens.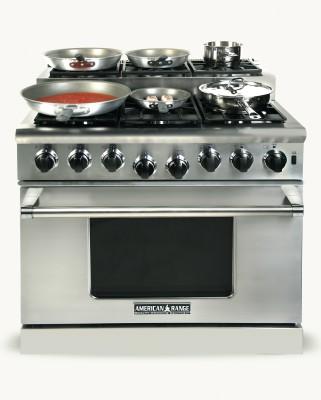 Range of Levels
The back burners of this American Range "step-up" range ($4,500 to 4,999; americanrange.com) are elevated, making it easier to reach them when those in front are in use–a style popular in French and Italian kitchens. These US-made ranges feature sealed burners for easier cleaning and extra-large grates in front to accommodate oversize saucepans. The oven is convection.