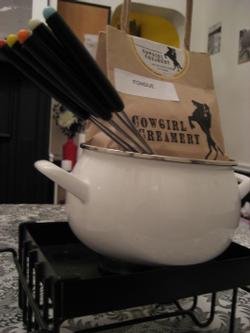 Fondue is the perfect combination of warmth and comfort–not to mention a good excuse to stay inside. With snow shoveling season comes melting cheese season, and as a big fan of cheese, Cowgirl Creamery has assembled paper bag fondue kits which rotate weekly.
For $17.50, each one-pound kit contains three cheeses traditionally enjoyed in the Alps, along with a recipe for adding crushed garlic and wine. The white lab-coated cheese scientists have removed rinds and cubed and bagged each variety (each kit serves four).

The cheeses rotate weekly, usually on Tuesdays since Cowgirl takes a long weekend (they're closed both Sunday and Monday). But according to store manager Jenny Chowning, "there's no science to it, just whenever we run out." In the past, kits have included Raclette (literally meaning "to shave" in Swiss) a rich, semi-soft cow's milk cheese which shepherds have been shaving over boiled root veggies and cabbage for centuries. Benedectine is a salty-yet-sweet, semi-soft cheese that combines a hat trick of animal's milks—sheep, cow and goat. Beaufort is another Alpine variety, and our personal favorite. The nutty cow's milk is similar to Gruyere.
For deglazing the pot (and for sipping purposes) choose wines from Alsace. The richness of fondue contrasts nicely with these acidic, herbal varietals. Avoid wines with tannins, and serve the wine chilled, not frigid (6 to 10 degrees Celsius). Cheeses can actually congeal in the stomach if mixed with too-cold wine. Chowning also recommends whites from the New York Finger Lakes region. Dry ciders also work, and for beer, stick with Belgian blends like Geuze. For dipping, try fingerling potatoes, bratwurst, celery, button mushrooms and wedges of Granny Smith apple.
Look for the kits in the front refrigerated section near the daily-made, wrapped sandwiches.
Cowgirl Creamery, 919 F St., NW; 202-393-6880; cowgirlcreamery.com. Open Tuesday through Saturday.