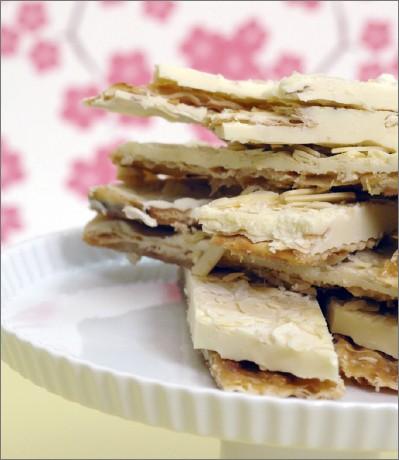 Arlington-based Shoebox Oven, a "very tiny merry" online boutique bakery run by Howard University grad Krishna Brown, is proving that Passover desserts are more than just matzoh meal. Brown's "Carmelized Matzoh Crunch" is a recipe spin-off from famed Chez Panisse pastry chef David Lebovitz. She replaced his bittersweet chocolate for its white (not technically chocolate) cousin. The recipe is foolproof and, as Brown points out, "matzoh is like two bucks for a huge case." She recommends having fun with the salt topping, such as using Hawaiian Alaea pink sea salt.
This is a quick, throw-it-together kind of recipe—much like the hasty genesis of matzoh during the biblical Exodus.
To purchase the White Chocolate Crunch from ShoeBox, visit Best Cellars in Arlington, where she has some sitting near the register. They are located at 855 Clarendon Blvd, and can be reached at (703) 741-0404. Or order a 32-oz. gift-wrapped box from the ShoeBox website for $12.50.
Shoebox Oven's (Kosher for Passover) Caramelized Matzoh Crunch
4 to 6 sheets of matzoh
1 cup (2 sticks) unsalted or salted butter, cut into chunks
1 cup (firmly packed) light brown sugar
A handful of Maldon sea salt
1 cup white chocolate chips
1 cup sliced almonds, toasted and coarsely chopped
Preheat the oven to 350 degrees. Line a 11" x 17" baking sheet with foil, making sure it goes up the sides and all around. Line the bottom of the sheet completely with matzoh, breaking extra pieces as necessary to fill in odd-shaped corner spaces.
In a medium-size, heavy-duty saucepan, combine the butter and brown sugar and cook over medium heat until the butter begins to boil. Boil for three minutes, stirring occasionally. Remove from heat and pour over matzoh, spreading with a heatproof utensil. Put the baking sheet in the oven and bake for 15 to 20 minutes, until the syrup darkens and thickens. (Be very attentive, however, making sure it doesn't burn. If it shows signs of burning, reduce the heat to 325 degrees.)
Remove from oven and immediately cover with white chocolate chips. Let stand for five minutes, then spread smooth with a spatula. Sprinkle with salt, then scatter toasted almonds, pressing them into the white chocolate. Let cool completely (try chilling the bark in the refrigerator to expedite cooling). Then break the bark into pieces and store in an airtight container until ready to serve.
ShoeBox Oven can be reached at (703) 549-0525, or info@shoeboxoven.com.