What: Jenna Bush's Book Party
Where: The rooftop of the Hay-Adams, overlooking her parents' house
When: Friday, October 5, 6:30 to 8:30 PM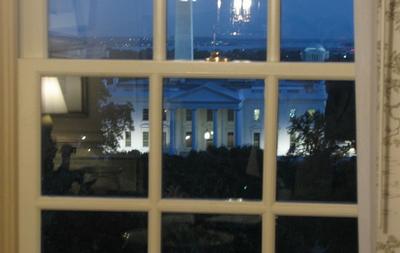 Who: The First Family and a small group of friends, handpicked largely by former White House social secretary Lea Berman, including Cabinet members (Energy's Sam Bodman and Commerce's Carlos Gutierrez), VIPs (Jenna's superagent, Bob Barnett, and former DC mayor Tony Williams), and a gaggle of First friends, including fiancé Henry Hager.
Food: Heaps of snacks, from chocolate-covered strawberries to shrimp cocktails to cheese and passed gourmet hors d'oeuvres.
Drink: An open bar that sat largely deserted in favor of passed red and white wine and water.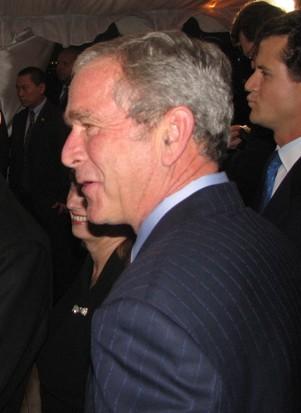 Scene: It wasn't clear until just before he arrived that the proud father of the author would come, although as the Secret Service began to lock down the block around the hotel, guests quickly wised up. The president arrived around 6:45 and remarks began shortly after 7 PM
Controls on the press were strict, with most reporters and photographers sequestered off the roof in the eighth-floor presidential suite where the heavily-armed Secret Service's counterassault team filled the hallway outside. Just before the remarks began, the press corps was brought upstairs, and afterward anyone with a camera was quickly thrown out of the party.
A Hay-Adams rep led off the evening, then gave way to the First Lady, who announced that Jenna's book, Ana's Story, was number four on the children's chapter books best-selling list, adding "and after tonight's party we expect it to be number one." All proceeds from the book will go to support UNICEF's mission. Jenna, poised and thoughtful, spoke next, thanking a long list of people who helped the project to completion, and teased her father for never leaving the house to attend social events.
The head of Elsie Whitlow Stokes Public Charter School, the Columbia Heights school where Jenna taught, presented Jenna and a UNICEF rep with a check for $250—a dollar for every student at the school. At that gesture, the President, who stayed at the back of the crowd and never spoke publicly, leaned over to Bodman and said, "Wow, that's pretty great."
Standing right next to the President, the Washington Post's Roxanne Roberts received a withering look from POTUS, who hates cellular interruptions, when her cell phone rang in the middle of the remarks—and she answered only to discover it was a wrong number.
After his remarks and brief mingling, the President left the party, freeing up the rest of the guests to concentrate on their eating, drinking, and getting books signed by Jenna. Even White House chief of staff Josh Bolten waited in line to have his book signed, just ahead of Newsweek's Richard Wolffe.
Throughout the night, Jenna was sporting her beautiful, large engagement ring. When complimented, she blushed a bit and said only, "He did a nice job."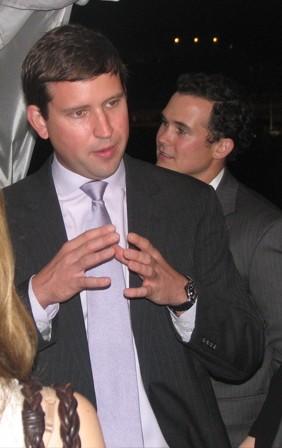 Ratings (out of 5):
Boldface names: 4.5
Swankiness: 3.5
Food/drink: 3.5
Exclusivity: 5
Total score: 16.5 (out of 20)