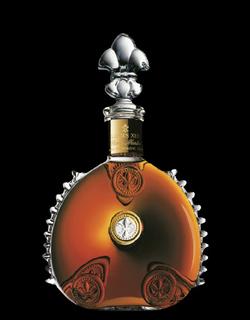 Since its popularity got a boost amid widespread use by hip-hop stars, Cognac has become one of the country's fastest-growing premium spirits.
Cognac is one of three officially demarcated European brandies; the others are French Armagnac and Spanish sherry. It is made from grapes grown in the region around the French village of Cognac near the Atlantic coast.
It's made from blending dozens—sometimes hundreds—of samples of "eaux-de-vie," the liquid from distilled grapes aged in oak barrels in the region's cool cellars. Each annual harvest from a vineyard represents a different eau-de-vie, so a complex Cognac can contain the fruits of hundreds of different harvests, and each year has a different character. The demarcations of the drink—VS, VSOP, and XO—represent different ages, although all the high-end Cognacs exceed the XO age bracket, which represents a Cognac more than six years old.
Rémy's Louis XIII is a blend of more than 1,200 eaux-de-vie, some dating back a century. A glass of it at high-end Washington restaurants like Milano goes for up to $175 a glass.
Served neat or on the rocks in a brandy snifter, Cognacs are also popular ingredients in drinks like Sidecars.
Courvoisier, which claims a connection to Napoleon because of his preference for its Cognac, has become a favorite of hip-hop stars. Its L'Esprit de Courvoisier can run as much as $5,000 a bottle.
Ibiza, a megaclub in Northeast DC where Diddy hosted a party in September, tops out with a special edition of Richard Hennessy Cognac for $4,000 a bottle that contains more than a 100 eaux-de-vie, including some dating to the French Revolution.
If you're looking to enjoy something good without sacrificing a semester of the children's college fund, try Martell's Noblige (about $50 a bottle), Meukow's panther-themed VSOP (about $40 a bottle), or a tart Rémy Sidecar, made with Rémy VS Cognac, Tuaca, Cointreau, and fresh lemon juice, at Ruth's Chris Steak House ($10 a drink).