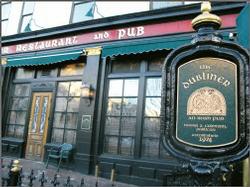 The Dubliner, a decades-old Irish bar on Capitol Hill, has become something of a DC institution. The owner, Danny Coleman, claims that he sells more Guinness than anyone in America. Steps away from congressional office buildings and in the heart of the District's historically Irish neighborhood, the bar is frequented by Hill staffers and lawmakers alike. The Dubliner has seen big names from both sides of the aisle, including Newt Gingrich and Ted Kennedy, according to Coleman.
Scott Carpenter, who has family from County Meath in Ireland, has been a bartender at the Dubliner for six years, and he spoke with me about his career pouring drinks for some of the nation's most powerful people. Read below for his answers on everything from how to pour the perfect Guinness to his favorite drink.
Do you have a favorite drink?

Wild Turkey and soda.
What do people order most?

Definitely Guinness.
What's the secret to pouring a great Guinness?

Take your time, let it settle, finishing it off slowly. And keep the glass at a 45-degree angle to the spout.
(To read about the Perfect Pint Pouring Competition, click here)
Does the Dubliner have a signature drink?

Other than Guinness, of course, there's a shooter called Dangerous Curve, made with Crowne Royale, peach schnapps, and pineapple juice.
Do you have a favorite Irish drinking song?

The Pogues' "Dirty Old Town."
(Watch The Pogues perform the song live)

What do you like most about the job?

The interaction with the people . . . hearing their stories. You get a little bit involved in their lives.
Least?

Dealing with the occasional overbearing or over-consuming customer.
Do you have any insights on the drinking habits and trends of Washingtonians?

Drinks go in and out of fashion, but the funniest thing I've noticed is when there's a change in power. Whenever there's a Democratic Congress, business seems to improve—there seems to be more of a drinking crowd within the staff.