The food: Though the restaurant/bar looks like a weathered European bistro, the food is eclectic American. The small kitchen puts out plenty of roasted and wood-grilled meats and fish, all simply presented. Slow-roasted halibut is paired with lemony lentils and parsley, and a roasted chicken from Sunnyside Farms gets a side of mashed rutabaga and a drizzle of lemon-herb butter. Ingredients are usually local, so the menu changes with the seasons. But while you might not see that red-chard and shaved-fennel salad all year long, you'll always find such Saint-Ex signatures as the fried-green-tomato BLT and a thick, juicy burger made from grass-fed Virginia cows.

The scene: Music photographer Mike Benson (who also owns Bar Pilar down the block) opened his narrow, aviator-inspired Logan Circle bar in 2003, and its popularity hasn't flagged a bit, even as the bespectacled hipster crowd is being edged aside by weekend invasions of preppy, on-the-prowl singletons. Upstairs, amid framed drawings from Le Petit Prince (the place is named for author Antoine de Saint-Exupéry) and wooden propellers, you'll find diners at the creaky wooden tables noshing on straightforward bar food. Meanwhile, the subterranean Gate 54 bar is strictly for drinking and dancing (iPod DJ nights happen every week), and DJs spin everything from funk to Britpop to DC punk to alt country. Saint-Ex is a favorite pre- and postshow hangout for bands playing the nearby Black Cat or 9:30 Club. In warmer weather, you can sit outside under twinkling white lights.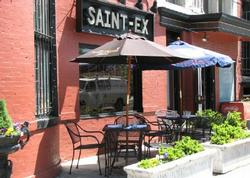 What's nearby: Saint-Ex is located a block from bustling U Street and is a few blocks from the many restaurants and shops around Dupont Circle. The Black Cat, jazz club HR-57, and Studio Theatre are just down 14th Street, as is sister restaurant Bar Pilar.
Insider tips: Happy-hour specials are Monday through Friday between 5 and 7 PM. Glasses of house red and white wines are $4.50, and Yuengling lager is $2.50. Mondays are "industry night" at Gate 54, with half-price specials for restaurant and bar staff.